This information should not be interpreted as financial, tax or legal advice. Mortgage and loan rates are subject to change.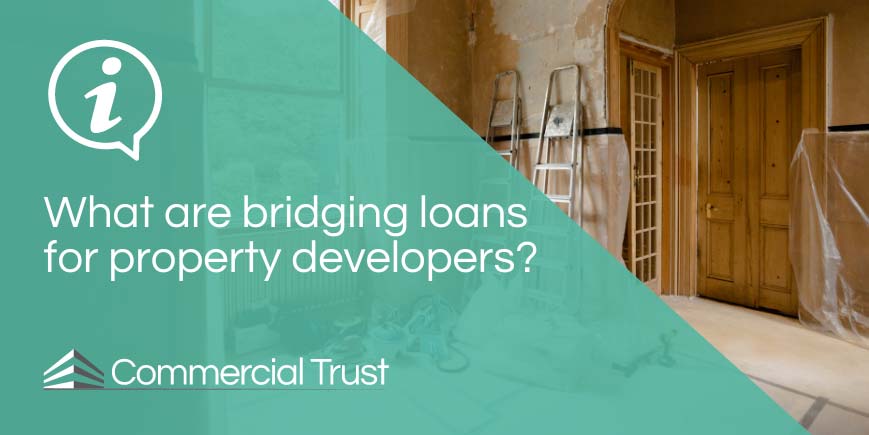 Categories: bridging loans | guides | bridging loan guides | development finance guides
Bridging loans are short-term loans that help property developers "bridge the gap" between one property transaction and another. These loans usually last for anywhere up to 2 years and can help with the commencement or completion of a development project.
Should you consider a bridging loan for property development? Is it the right option for you and your current or upcoming project?
Let's find out.
In this guide to commercial bridging loans, we'll answer all of the following questions and more:
Bridging loans are short-term loans used for auction purchases, renovations, property development, and other cases where traditional mortgages are not applicable. They charge monthly interest (usually between 0.5% and 1.5%) and run for up to 12 months on average. For property developers in need of a lot of money in a short space of time, they're one of the best solutions.
The key aspects of a bridging loan
Secured loan: Bridging loans are secured loans, which means they are secured against your property (just like a mortgage). If you fail to repay, your property could be repossessed.
Short-term: These loans are taken out on a short-term basis. You can get bridging loans for up to 3 years, but they rarely extend beyond a year. They are also available with terms of just a few weeks.
Wide availability: Bridging loans are offered on a case-by-case basis to limited companies, sole traders, and partnerships. They may even be available to borrowers with subpar credit.
Processing speed: The application and approval process is much quicker than that of a typical mortgage and lenders are usually more accommodating.
Finance requirements: Whether you're buying, building, refurbishing, or consolidating, a bridging loan can help you to meet your goals in the short term.
Loan amounts: You can use a bridging loan for property development big and small, borrowing anywhere from tens of thousands to tens of millions.
What are the types of bridging loans?
There are two types of bridging loans for property development: Open and Closed.
A closed bridging loan is one with a fixed schedule and a clearly defined exit plan—you know how and when you will pay it off. The details of the property sale have been set and you have a fixed completion date.
There is a degree of certainty with closed bridging loans that favours both the lender and the borrower, so it's often the preferred option.
An open bridging loan is one that doesn't have any definitive date for the loan to be repaid, thus providing the borrower with more flexibility. However, there will still be a cut-off date by which time the loan must be repaid.
How much can be borrowed with a bridging loan?
The maximum amount you can borrow with a bridging loan for property development depends on the lender. However, these loans are usually capped at anywhere between £1 million and £25 million, with a minimum loan amount of around £25,000.
The typical interest rates on a commercial bridging loan
Bridging loans are considered to be high-risk, and the interest rates are usually reflective of that. Commercial bridging loans for property developers range from around 0.5% to 1.5%, but these rates are charged monthly and not annually.
Typically these fees would be deducted off the balance of the loan and therefore paid up front. If the loan completes before the end date of the loan, then any interest owed to you would be paid back. So, there is a great incentive for completing a bridging loan quickly and before it is due to be repaid.
If you take a 12-month bridging loan at a rate of 1.5% per month, that's the equivalent of 18% over the course of the loan.
Assuming the loan amount is £500,000, you would pay £7,500 in monthly interest, equal to £90,000 in total interest.
Always check the full cost of the loan before agreeing to any terms.
If you're not sure how much you will repay and what type of rate you can afford, check out this bridging loan calculator. Just enter the loan amount, term, and interest, and it'll give you an idea of how much you will repay.
What's required to be considered for one?
As with all loans, there are a few steps you need to take—and a few conditions you must meet—to qualify for a bridging loan for property development:
Show a clear exit strategy
Pass credit history checks
Meet the minimum loan-to-value ratio
Provide financing details
Read on for more details on each of these bridging loan requirements.
What is an exit strategy on a bridging loan?
The exit strategy is arguably the most important aspect of a bridging loan for property development. It's the process that outlines your plan, showing the lender how you'll repay the money and giving them confidence in your ability to do so.
It is very important to give yourself plenty of time to repay a bridging loan, because the penalties for not repaying on time can be quite high.
Depending on your circumstances, an exit strategy may include one of the following outcomes:
Property sale: A plan to sell either the property on which the loan is secured or another property that will cover the principal of the loan.
Refinancing: Mortgages take time to arrange, so bridging loans can be used when financing is required but time is short. In such cases, you may agree to pay off the loan when the mortgage has been finalised.
Another source: A loan can be repaid via cash acquired from another source, such as an asset sale.
Credit history
Your credit history isn't as important with a bridging loan for property development as it is for a mortgage or personal loan. As a result, bad credit isn't usually a deal-breaker.
However, credit history may be considered if you're applying for a high loan-to-value (LTV) or if the eventual repayment of the loan is dependent on you being approved for a mortgage.
What deposit is needed?
Deposits of between 25 and 40% will give you the widest choice of lenders—the more you have, the better your options will be. High-risk ventures such as hotels and restaurants may require a deposit of 50%, equivalent to an LTV of 50%.
Financial status
Lenders focus more on the property and plan than your financial status, but under certain circumstances, your income and obligations will still be considered. It's not quite the same as applying for a mortgage, though, and it's unlikely that the lender will pore through your bank statements and outgoings.
What situations are best suited for a bridging loan?
As a property developer, there are a few times when you may way want to consider a bridging loan:
You are renovating or developing: If you need to invest a lot of money in the property to bring it up to spec, a bridging loan can help. The same applies if you wish to buy land to develop houses, something that traditional mortgage lenders won't cover.
You need money quickly: If you need to move quickly, a traditional mortgage won't help, but a bridging loan will let you make relatively quick decisions. You can use this loan to take advantage of timed offers and rapidly changing market conditions.
You are buying at auction: Mortgage lenders need to know what you're buying and how much it costs, after which you'll need to wait weeks for an offer. It's not conducive to the fast and relatively impulsive auction process, so a bridging loan can cover the initial costs of the auction purchase, giving you the time and opportunity to buy a house and wait for a mortgage.
You are developing a dilapidated property: Traditional mortgages are rarely approved for old and dilapidated buildings that need a lot of work. You may also be refused if the building is missing a bathroom or kitchen.
You need to secure planning permission: You may be buying land or a property and need to change its current use to something else (e.g. seeking planning for converting a commercial property to residential) and require planning permission to do so. You could take out a bridging loan to fund the purchase and works involved with the change of use, which wouldn't be allowed under long-term finance.
What's the best way to get a bridging loan?
Usually, the best way to get a bridging loan is to secure it against the property that you are buying and make the term as short as you can. But it really depends on your situation—why do you need it, will your circumstances change, and do you have any experience or additional assets?
Regardless of how you answer these questions, we can help you to get the best possible deal.
FAQs about getting a bridging loan for property development
If you still have questions about getting a bridging loan for property development, check out the following FAQs:
What happens if a bridging loan is not repaid?
If you don't repay your loan within the specified time, you could be hit with penalty charges. As it's a secured loan, continued failure to pay may result in your property being repossessed.
Do I need an exit plan?
Yes, the exit plan is how you prove to the lender that you will be able to repay the loan, so you need to have one in place.
How do I get a bridging loan for Scottish property development?
Bridging loans work the same way in Scotland as in England and Wales, they are just as straightforward. The only challenge would be securing finance off the mainland. You can often get loans of up to 75% LTV.
Do I have to pay monthly?
You can, if you want, but you also have an option of rolling up your interest, which means that you pay it all at the end of the term. This may be the preferred option if you're waiting on the sale of a property.
Related articles