This information should not be interpreted as financial, tax or legal advice. Mortgage and loan rates are subject to change.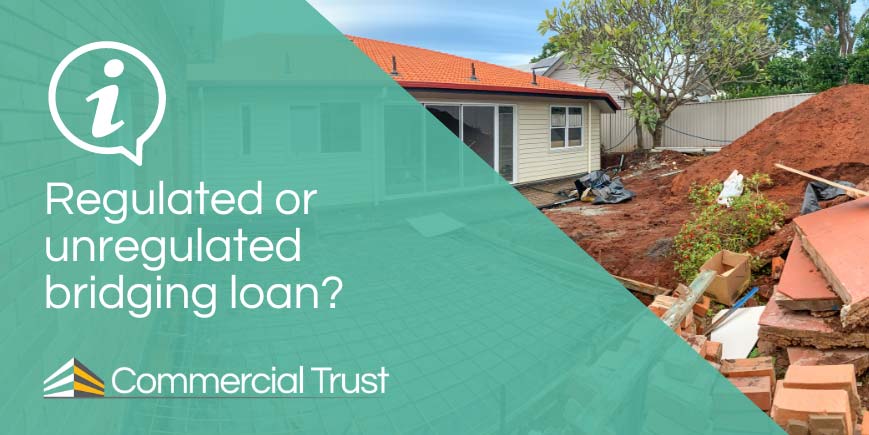 Categories: bridging loans | guides | bridging loan guides
Bridging loans can be either 'regulated' or 'unregulated'. For those outside the property investment industry, it is entirely possible that the description 'regulated' and 'unregulated' is unfamiliar, when describing financial products.
Regulated bridging loans are consumer products operated under the protection of an organisation called the Financial Conduct Authority (FCA), where unregulated bridging loans are not.
The FCA works alongside the Prudential Regulation Authority, which is the organisation in the UK that regulates a large number of its financial institutions (including many banks and building societies).
Applicants taking out unregulated bridging loans are not under the protection of the FCA, because as an individual operating within the property finance industry, the expectation is that you will be familiar with bridging loans and how they work and as such do not require a high level of protection.
This does not mean that unregulated bridging loans are any less legitimate as a product than regulated bridging loans, but it does assume that you will have a greater awareness of the risks involved with this type of borrowing. It also means that it is vital to find out if an unregulated bridging loan lender is a credible and trustworthy company to work with.
Remember, whether you have a regulated or unregulated bridging loan, your property may be repossessed if you do not keep up repayments on debt secured on it.
Below is a summary of the subjects this article covers, and you can click on any of the links to take you to a particular heading.
How are bridging loans regulated?
In the UK, consumer finance is regulated, which means there are strict rules and regulations imposed on companies operating within the industry, to protect people using their products who are unfamiliar with them.
Those rules and regulations are devised, monitored and imposed by the FCA. The FCA is there to ensure that financial markets are "honest, fair and effective so consumers get a fair deal".
Where financial services are offered by a company to consumers, i.e. the general public, they are required to be registered with the FCA and follow their rules and regulations in order to remain in operation.
The FCA has three strategic objectives, which are to:
protect consumers from bad conduct
protect the integrity of the UK financial system
promote effective competition in the interests of consumers
As such, if you take out a regulated bridging loan, you will be covered by the protection of the FCA, where if you take out an unregulated bridging loan you will not.
The best way to determine which lenders have a credible reputation for offering bridging loans is to work with an established broker.
A broker who has been working with bridging loan lenders will know who has a good reputation for helping clients. They will also be able to match your needs and circumstances to a lender and product which best meets those specifications.
What is an unregulated bridging loan?
Unregulated bridging loans are similar, in terms of their function, to regulated bridging loans. They are a short term financial product and are secured against property.
Unregulated bridging loans are secured against property, the property will not be the applicant's own home. Because unregulated bridging loans are intended for business use, by industry professionals, they are not operated under the protection of the FCA.
To set up as an unregulated bridging loan lender, there are no governing bodies or protections. The only organisation those lenders would need to be registered with is the Information Commissioners Office (ICO), because they will be handling client data and as such they have to comply with General Data Protection Regulation, the laws which protect an individual's personal data.
All types of bridging loan are intended to be used over a shorter term than a mortgage, because the monthly interest is more expensive than a mortgage. This is due to the risk associated with bridging lending, relating to the type of property accepted as security (see "In what situation should you use one" below).
Using an unregulated lender
Given that the FCA does not oversee unregulated bridging loan lenders, it is important to ensure you work with trusted companies with an established reputation.
Working with a specialist broker, who can demonstrate their own skills, experience and longevity for giving advice in this area of lending is a great place to start, for a number of reasons, as outlined below.
There is an incredibly large number of bridging loan lenders, each with different eligibility rules and product terms and conditions. Given that bridging loans are intended to be temporary, due to their associated costs, getting an appropriate product for your needs and circumstances is essential.
You should expect a broker to ask you thorough questions about you, the security property, and the long term plans for the property. They will need to know this information in order to match you to the right lender and product.
Similarly, your "exit strategy" is a vital piece of the picture. "Exit strategy" means how you intend to pay back the bridging loan. Getting this mapped out is essential because, if you cannot repay it, a bridging loan can be incredibly expensive over time.
In what situation should you use one?
Unregulated bridging loans are for business purposes, such as bridging loans for property developers who buy property to renovate or refurbish it and either to sell it on, or rent it out with a buy to let mortgage to residential tenants, or rent it out with a commercial mortgage to third party businesses, or for the owner to operate their business from.
As a landlord or property investor, you might want to buy property at auction, or buy property under market value, in those circumstances a mortgage is not usually possible.
Buying at auction has time pressures that a mortgage cannot meet – an auctioneer will need to be paid typically within 28 days of the hammer falling and you cannot get a mortgage in place within that time frame.
A bridging loan is useful for buying property under market value, because often properties that fall into that category require work to be done to them, to fulfil their potential market value.
If the property you are buying is not 'habitable' in the eyes of a lender (typically this would entail no functioning kitchen and/or bathroom), then you will not be able to secure a mortgage, in which case a bridging loan is a suitable alternative product.
If you need more information about unregulated bridges, read our Guide to bridging loans.
What is a regulated bridging loan?
Regulated bridging loans are similar to unregulated bridging loans, in that they are designed to offer short term finance secured against property. However, a regulated bridging loan is for consumers who are securing the loan against their current home or a property they intend to live in.
Anyone taking out a regulated bridging loan will be protected by FCA regulation as a result of the product being for their current or future home.
Using a regulated lender
Given a regulated bridging loan lender is supervised by the FCA, you can look up their credentials on the FCA register. However, there are a large number of lenders in the marketplace and it would be exceptionally difficult and time consuming to do all the research into each lender's products and criteria in order to establish which lender and product is best for you.
Using a broker allows you to access that expertise and it will take a great deal of the work of completing your loan out of your own hands.
In what situation should you use one?
Common uses for a regulated bridging loan are:
To break the chain in a property purchase: When buying a new home, typically you will be transacting with sellers who have to find their next property before moving out, in order for you to move in. This goes for the people they are buying from, and so on, which creates a 'chain' of people buying and selling. If one or more buyers or sellers in the chain does not go ahead, a part of or all of the chain can collapse. In these circumstances a regulated bridging loan can be used to buy a home and prevent the purchase failing, which can be repaid when a new purchaser is found and the property is successfully sold.
To buy a home quickly: if you need to move in to a property more quickly than the typical processing time of a residential mortgage, you can take out a bridging loan which completes more quickly. The bridging loan can then be paid off by remortgaging onto a mortgage.
Pay to refurbish an existing or prospective home: if you have structural or refurbishment work to do to your prospective new home before you move in, or to a home you live in that you are enhancing, you can use a bridging loan to pay for the work and then pay off the bridging loan with a traditional mortgage.
Buying a home at auction: if you buy your new home at auction, just like an unregulated mortgage, a regulated mortgage cannot typically be arranged in time to settle the full purchase amount with the auctioneer in the time frame required (usually 28 days). A regulated bridging loan can be used to cover these costs and be paid off once the long-term mortgage goes through.
Discover our bridging loan service
Our advisor's will help you identify whether you need a regulated or unregulated bridging loan, if you are unsure.
If you need an unregulated bridging loan, we will then find out more about you and your property – which we do via the phone – so we can go away and find a product that ticks all the boxes for you.
We don't give you a range of products you then have to wade through either. We will propose one bridging loan, which is the deal that most closely matches the specifications you laid out to us.
Our service doesn't stop at finding the product though. Once you have given your advisor the go-ahead to make an application to the lender we identify, you will be introduced to your account manager.
Your account manager will administer the progression of your case, through to valuation of the property and on to the completion of the deal, when you have the funds you need in your bank account.
Our service is designed to take away all of the stress and bother that comes with coordinating the documents and third parties involved in securing a mortgage. Our objective is that you have peace of mind and all the information you need with the minimum of effort from your side.
Related articles