This information should not be interpreted as financial, tax or legal advice. Mortgage and loan rates are subject to change.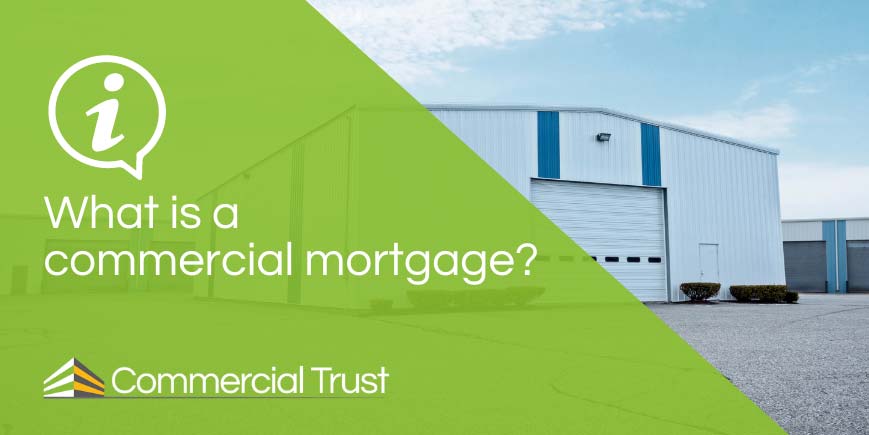 Categories: commercial mortgages | guides | commercial mortgage guides
Commercial mortgages are loans secured against commercial property. Commercial mortgages help business owners to purchase land or property to operate from and thus avoid the rental market. You can also buy a commercial property purely as an investment and rent it to another business/other businesses.
Check out the guide below to learn more about this subject, including topics such as:
Who should apply for a commercial mortgage?
Commercial mortgages are secured loans and are generally used for one of two reasons:
To purchase property that will be used as business premises
To purchase a mixed-use property (part commercial, part residential)
If you have an established business with equity to put into your own premises; the opportunity arises to buy the premises you are operating your business from (where it is currently rented), or you want to unlock some equity in another property, or grow a property investment portfolio, it's worth considering a commercial mortgage.
Bridging loans for property developers can also be combined with commercial mortgages, with the former providing short-term capital needed to purchase the property, before the latter takes over when the circumstances dictate.
When you should apply for a commercial mortgage
You should only apply for a commercial mortgage when it makes financial sense to do so. Everyone's situation is different, and your circumstances will dictate when/if a commercial mortgage is the right decision for you.
For some investors, it's the point at which their business has grown so much that they can afford to buy the building they have been renting. A business owner might also buy property to ensure they have control over the premises they operate from, rather than renting. For others, it's more about expansion, and they may look to release funds to finance new investments, as a way of expanding their property portfolio.
Here are a few reasons to consider a commercial mortgage:
You are renting a business premises and want to buy it
You are setting up a business and need some where to run it from
You want to expand your business into a bigger building
You want to earn money from renting a commercial building to another business or businesses
How do commercial mortgages work?
We've addressed the question "what is a commercial mortgage?". We've shown you how and when you should apply. But how do commercial mortgages work?
In many ways, they are similar to residential mortgages, but with a couple of notable differences:
The interest rates are generally higher
Affordability is primarily based on the business and not the individual, for owner-occupied premises, or, for investment property it is the rental income.
They are used for properties a business will operate from
As with residential mortgages, commercial mortgages are secured against the property. It means that the property can be repossessed if payments are not made.
What sorts of property can you purchase with a commercial mortgage?
What is a commercial mortgage used for? Well, it can be used to purchase an array of business properties, including (but not restricted to):
Retail outlets
Pubs, bars, and restaurants
Offices
Nurseries
Hotels and B&Bs
Warehouses and storage units
Agricultural property
Nursing homes
Where a property is being purchased with a view to conducting business from it, or as an investment property that third-party businesses will rent and run their businesses from, a commercial mortgage can help. It can also be used to refinance an existing mortgage, releasing equity in the property.
Understanding commercial mortgage interest rates and costs
Commercial mortgage interest rates are calculated using an annual percentage rate, but your payments are monthly, as with traditional mortgages. There are other fees as well as mortgage interest. Understanding commercial mortgage rates and fees can be tricky at first, but they're really not that different from residential mortgages.
Here's what you need to know:
What interest rates should you expect?
Commercial mortgages can have fixed or variable rates.
A variable rate mortgage means that the interest rate is usually set at a percentage above another rate of charge. This is generally the Bank of England Base Rate and can change throughout the term. A fixed rate does not change for a predetermined period.
Commercial rates are usually higher than residential rates, as business properties are in a higher-risk bracket.
What fees are charged?
Fees vary by lender, but they can include the following:
Valuation fees: The lender will assess whether the property is worth what you are paying and charge you for the assessment. Valuation fees vary depending on the state of the property and the complexity of the valuation.
Arrangement fees: The arrangement fee is often between 1% and 2% of the total loan amount. They are usually charged after the mortgage has been approved, but some lenders may charge them sooner. However, most lenders allow you to add this to the loan.
Legal fees: Just like a residential property, when you buy or remortgage a commercial property, you need the services of a conveyancing solicitor. They will charge a fee for their work which varies according to the amount of work they have to do.
How much of my own money do I need to invest?
The maximum loan to value (LTV) is usually 75% for a commercial investment mortgage and 80% for owner-occupier mortgages (see below for more info on these types of mortgages). This means you will need to put down at least 25% or 20% of the property value from your own funds, but you may need a deposit of 40% or more for a commercial purchase.
The types of commercial mortgages
There are two types of commercial mortgages:
Commercial investment mortgages
Owner-occupier mortgages
Let's take a closer look at both options.
Commercial investment mortgages
A commercial investment mortgage is used to purchase property for rental use. It can be rented to businesses solely for commercial use, or, if the building is a combination of commercial and residential use (e.g. a shop with a flat above it) it can be rented to tenants for residential use too.
The latter only applies to semi-commercial mortgages designed for mixed-use properties (part commercial, part residential).
Owner-occupier mortgages
An owner-occupier mortgage is not strictly a mortgage type, but instead describes the use of the mortgage. It is used to buy a property you're currently renting, or a property you want to acquire, for business use.
Credit score and commercial mortgages
To determine if you're a good fit for a commercial mortgage, the lender will conduct a series of checks, as with any mortgage.
The checks for a commercial mortgage are different from those for a residential mortgage, as the viability of the deal is based on the business operating from it or the rent that will be charged, rather than the owners personal income (which is what is looked at for a residential mortgage). The lender will of course carry out industry standard credit checks on the applicants.
Commercial lenders will review the documentation that supports your application, look at your credit score and calculate the affordability of the deal. You will commonly be asked to provide the following documents:
Bank statements from at least the last 3 months or accounts from the trading business, where the transaction is for an owner-occupier
Proof of identity and address
Lease/tenancy agreements, where the transaction is for an investment property
A business plan outlining assets, liabilities, income, and expenditure
You can still apply for a commercial mortgage with bad credit, depending on how recent your credit issues are. However, you will be expected to pay a higher rate of interest.
What's the best way to get a commercial mortgage?
If you've landed here because you're asking, "What is a commercial mortgage?" there's a good chance you're considering taking the plunge, but need a helping hand. Hopefully, the above guide has helped to fill in some of the blanks, but for everything else, you can speak with one of our expert brokers.
Our mortgage brokers will help you to find the best deals. They'll go over your circumstances and preferences, identify a deal that matches those criteria, and ensure you get the best rates possible from a wide range of UK lenders.
Contact us today and discover how to get a commercial mortgage that's right for you.
Alternatives to consider
Commercial mortgages aren't the only way to buy business premises. There are a few other options that could help you:
Bridging loans: Made to "bridge" the gap between one purchase and the next, or to fund work where the property is in need of refurbishment with a commercial mortgage taking over once the work is complete.
Working capital loans: A short-term loan designed to cover gaps in your cash flow. It is fixed against future earnings.
Invoice financing: If you're owed money that's not yet due, you can borrow money against the value of the invoice and access it straight away.
Line of credit: A line of credit works like a credit card. It lets you borrow small sums of money as and when needed, as opposed to taking a large lump sum at once.
FAQs
A commercial mortgage is more expensive than a residential mortgage. Lenders base their rates and fees on the level of risk—so typically, the greater the risk, the higher the interest rate. Business properties are in a higher risk category, so interest rates are higher and typically larger deposits are needed.
There is no "most common" commercial mortgage. Rates are either variable or fixed. A commercial mortgage application is much more closely tailored to the property and business(es) operating from it.
To understand your options and the types of commercial mortgage interest rates available, our advisors will talk to you about your investment plans.
Most commercial mortgages run for between 3 and 15 years. However, some lenders offer 30-year terms.
A commercial mortgage broker serves as a link between the borrower and the lender. They help the borrower to find the best deals, based on the cost of the property, as well as credit scores and affordability. Once the best deal has been found we'd then guide you through to completion dealing with all third parties.
It's a simple calculator that will tell you how much your monthly payments will be. It's a handy tool to use before making the commitment to applying and can help you to plan your finances.
To calculate your commercial mortgage repayments, just click the link.
Related articles