This information should not be interpreted as financial, tax or legal advice. Mortgage and loan rates are subject to change.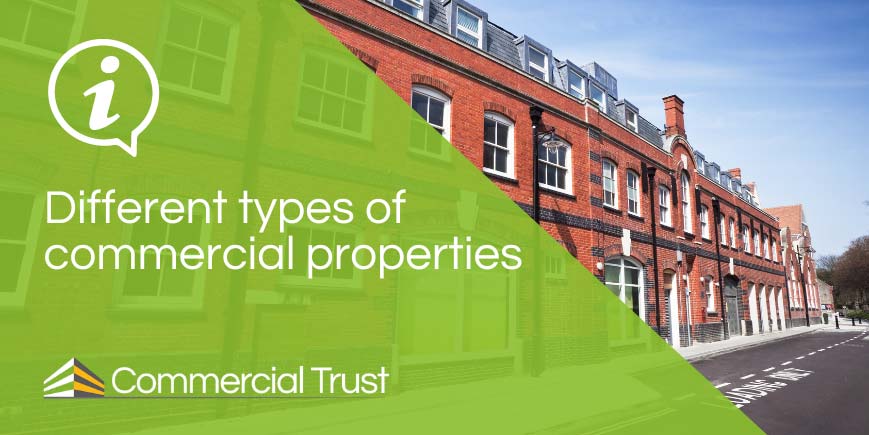 Categories: commercial mortgages | guides | commercial mortgage guides
There are different types of commercial buildings, and they are divided into classes under the Town and Country Planning Order of 1987 – the class given to the commercial building defines what the building can be used for. The classes were revised in 2020, read on for more information.
If your goal is to renovate the building, or change its intended use, you may have to get planning permission.
If you're looking to invest in commercial properties and want help navigating this often tricky landscape, read our guide to buying commercial property here.
Choose the right commercial property for your investment goals
Before you commit yourself to buying or renting a commercial property, you should make sure the property has the relevant property use class and ask yourself whether it aligns with the business you intend to perform in the space.
Otherwise, if you want to change its intended use, you may have to apply for planning permission from your local planning authority (LPA).
If you are renting a property, you might also want to renovate the business space in the future, but you should be aware that it is common for landlords to include clauses in the rental contract which can restrict the plans you may have for the building.
Deliberately or otherwise, if you intend on renting and move forwards with plans to alter the buildings use, this can result in fines or other financial consequences being given out.
If a contract was in place when you made changes to the property which restricted you from doing this, the owner may be granted rights that compensate them for the changes. This is why it is imperative to choose a commercial building with the right use class for your purposes.
When purchasing a commercial property that's above £150,000 you will also need to pay Stamp Duty Land Tax (SDLT), or simply, 'Stamp Duty'- here is a comprehensive guide on paying stamp duty on commercial properties.
For more a general overview of borrowing for commercial property, see what we have to say on commercial mortgages.
What are the types of commercial properties?
There are many different codes to differentiate the use cases for commercial property types, as defined by law. The revised codes of 2020 changed the old classifications of 1987. Under the new classifications, classes A1, A2, A3, B1, D1, and D2 are now banded as Class E.
Below we have gone into more detail on each property type, including the maximum loan to value you can achieve when taking out a commercial mortgage. However, bear in mind, that if you cannot meet these thresholds, you may be able to raise a deposit from other property you own, ask our advisors about this for more information.
With all types of commercial mortgages, if the borrower can demonstrate experience in the sector, you will be more likely to achieve a lower mortgage interest rate than without experience.
Offices
There are many different types of office commercial property to consider as an investor. Typically, if you're looking for office spaces to consider investing in, the gold standard has been 'location, location, location'.
This is because employees and companies value convenience and ease of commute when it comes to workplace. However, a sense of community is also important, as is ease of productivity (i.e. meeting rooms, shared spaces, etc.)
All office spaces are classified as Class E: Financial services such as banks, professional services that are not medical, estate & employment agencies, and an office used to carry out any operational or admin function.
Typically a lender will be able to offer up to 75% LTV.
Retail space
A retail property classification will change depending on the purpose of building.
Class F.2: For shops no more than 280 square-feet, that sell essential goods, and at least 1 kilometre from another similar shop.
Class E: Retail shops, cafes, restaurants
Sui-Generis: Hot food take-away
When investing in a retail space, it's always important to ask yourself if the building's location is likely to pick up public footfall.
In terms of the type of loans lenders will typically give out for these commercial properties, while restaurants will likely get up to 65% loan-to-value, takeaways and shops can typically get up to 75% loan-to-value.
Industrial properties
There are two over-arching types of industrial property you typically might consider as an investor:
B2: Building use for furthering an industrial process other than one falling within Class E or B3-B7.
B8: A building use for storage or as a distribution centre.
Classes B3-B7 have more specialist and niche definitions.
For industrial commercial properties, loans tend to be up to 75% loan-to-value.
Leisure properties
Leisure properties have various classifications depending on what they are.
Class F.1: museum, public library, public hall, exhibition hall.
Class F.2: hall or meeting place for principal use of local community, indoor or outdoor swimming pool or skating rink.
Class E: Gym or indoor recreation.
Class C1: Hotel.
Sui-Generis: Theatre or nightclub.
Because commercial leisure properties have a broad range of use cases, it's important to consider what factors will determine what makes your particular investment successful.
As always, location is a strong factor, but you will also need to consider whether there will be capital costs in terms of renovating, installing disabled access, and potentially parking as well.
If you would need to make these renovations or changes, a commercial bridging loan prior to a commercial mortgage may be the right decision, and we advise you read our guide to commercial bridging loans.
For hotels, guesthouses, or BnB's, lenders will typically offer up to 75% loan-to-value. For gyms, you will generally be offered up to 70% loan-to-value.
Healthcare properties
These are the possible classifications for healthcare commercial properties:
Class E: Clinic, health centre, day nursery, or day centre.
Class C2: Residential care home, hospital, or a nursing home.
Fortunately, healthcare properties tend to have a higher loan-to-value rate with GP's and pharmacies capable of up to 100% loan-to-value. Dentists can go up to as high as 90% loan-to-value, and physio centres as high as 80% loan-to value.
Special purpose properties - a niche market for commercial property investors
These types of properties are usually classified under 'sui-generis', and finding a lender is absolutely possible, however it entirely depends on the particular business your looking to set up.
These business' include but are not limited to: theatres, nightclubs, scrapyards, garages, petrol stations, hot food takeaways, etc.
Here are some commercial property classifications
1. Class F.1 – 'Learning and Non-Residential Institutions' [Previously D1]
- Schools
- Non-residential education and training centres
- Museums
- Public libraries
- Public halls
- Exhibition halls
- Places of worship
- Law courts
2. Class F.2 – 'Local Community Uses'
- Shop no more than 280 square-meters, selling essential goods and at least 1 kilometre from another similar shop
- Hall or meeting place for the principal use of the local community (Previously D2)
- Indoor or outdoor swimming baths, skating rinks, and outdoor sports not involving motorised vehicles or firearms.
3. Class E – 'Commercial, Business and Service Uses'
- Retail, shops, travel agencies, etc. [Previously A1]
- Financial and professional services (not medical) [Previously A2]
- Café's or restaurants [Previously A3]
- Offices other than A2 uses [Previously B1]
- Clinics, health centres, day nurseries, day centres [Previously D1]
- Gymnasiums, indoor recreations not involving motorised vehicles or firearms [Previously D2]
4. B2: 'General Industrial', including
- The use for the furthering of an industrial process other than falling within Class E, or B3 to B7
5. B8: 'Storage and Distribution', including
- Wholesale warehouse
- Distribution centres
- Repositories
6. C1: 'Hotels', including
- Hotels
- Boarding or guest houses
7. C2: 'Residential Institutions', including
- Boarding schools
- Residential colleges
- Training centres
- Residential care homes
- Hospitals
- Nursing homes
8. Sui-Generis:
Where uses do not fall within the main classes, they are classed as 'sui-generis'. E.g. Theatres, nightclubs, scrap yards, petrol stations, hot food takeaway, and laundrettes.
We can help you navigate the commercial mortgage world
As you can see, navigating the types of commercial properties there are can be tricky, but commercial mortgage advisors can help you find the best rates from amongst our wide range of lenders, as well as helping you through the whole application process.
If you want to an indication as to what sort of commercial mortgage you can get, use our commercial mortgage calculator, however, if you need tailored advice to your particular situation, contact our mortgage advisors.
Related articles