This information should not be interpreted as financial, tax or legal advice. Mortgage and loan rates are subject to change.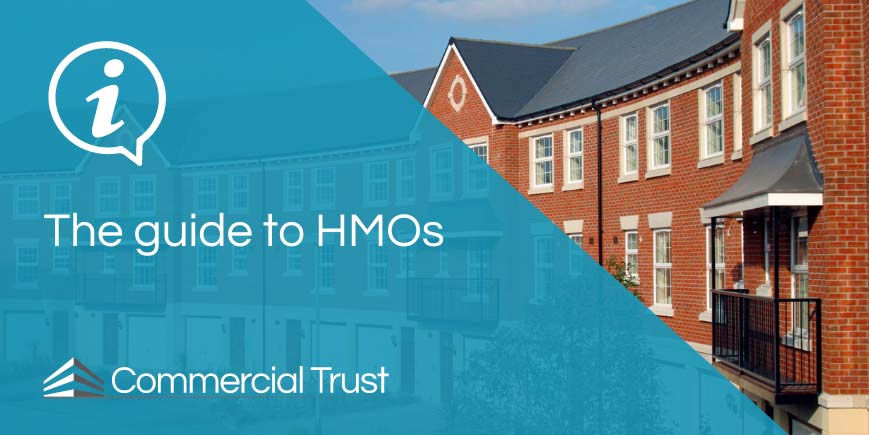 Categories: hmo | guides | buy to let mortgage guides
When is a property considered an HMO?
A property is classified as an HMO (House of Multiple Occupation) if it has at least 3 tenants, who live separately, so form more than 1 household and share kitchen and bathroom facilities.
Lender definitions of an HMO can vary from council definitions of an HMO, so make sure you are clear on both.
Sometimes HMOs require a licence from the local council (see "Getting an HMO license" below).
How do HMOs work?
HMO's offer tenants a cheaper way of living than renting a full house or flat to themselves, this is typically why they offer strongest appeal to students and young executives starting their careers, who are still on modest incomes or want to enjoy communal living arrangements.
For landlords, HMO's offer higher yields. This is because multiple rental incomes, rather than just one household rental income, will usually amount to a greater total income overall (see "Advantages of an HMO" below).
HMO mortgages and fees
In essence, HMO mortgages work similarly to standard buy to let mortgage, they are a more specialist area of borrowing and so there are fewer lenders that offer them. However, with over 80 buy to let lenders out there, the number that offer HMO products is still broad.
Loan to value
Loan to values on HMO mortgages are up to 80%, so you would need at least a 20% deposit (20% of the value of the property) to invest in an HMO property.
Mortgage rates
HMO mortgage rates tend to be higher than a standard buy to let, because the borrowing scenario is more complex. However, there is a huge range of products available and finding the best rate for your circumstances will depend on the property, your circumstances, your investment approach and plans and how that aligns with lender criteria.
Comparing HMO mortgage rates will give you a general feel for what is available, but understanding which deals you are eligible for is more complicated, the easiest way to determine this is to speak to a mortgage advisor who can take all of your wants and needs and match you to the most appropriate product available, whilst also ensuring it is the most cost effective deal for you.
Incentives
Incentives that come with some buy to let deals (e.g. cashback at completion, free valuation, no product fee) are less common on HMO deals, but some lenders offer some of these options, when you discuss a deal with your mortgage advisor, tell them your priorities so they can present you with a deal which will suit you best.
Borrowing amount
The amount you can borrow on an HMO mortgage is dependent on the rental income the property will generate, just like any other buy to let mortgage. Each lender has their own affordability calculation to determine how much an applicant can borrow and the diversity in approach has widened significantly over time.
Affordability calculations require the rent to exceed the monthly mortgage cost, to make sure that if there are changes in the monthly mortgage cost, the borrower is still able to afford to pay them.
Higher rate tax payers are subject to more conservative mortgage affordability calculations, this is because those with higher incomes tend to have income from a wider range of sources than basic rate taxpayers which present a higher level of risk.
Experience required
Lenders usually require one year of experience as HMO landlord or two years of experience as standard buy to let landlord. It is possible to find lenders who would be able to offer a loan without experience, but the options are limited.
Product fees
The fees associated with HMO mortgages come under the same headings as any buy to let mortgage, you would normally pay a product fee, which might be a fixed amount or a percentage of the loan.
Some high street lenders may offer deals with no product fee, but this would be on smaller HMO properties that would require little to no work to convert the property back to a home that could be sold to a single household.
Given that HMO mortgages are more specialist, they tend to attract higher lender fees than a standard buy to let mortgage.
Valuation fees
Again, because HMO's are more specialist properties, the valuation work required can be more extensive and as a result valuation fees can be higher than on a standard buy to let property. However, some lenders offer free valuations with their products.
Broker fees
Broker fees cover the cost of the work the broker does to identify a suitable deal for you, and all the administrative work associated with getting the deal through to completion.
How many people can live in an HMO?
The number of people that can live in an HMO depends on the number of bedrooms the property has and the size of the bedrooms.
How big do the bedrooms need to be?
Where an HMO is licensed, by law, you cannot rent a room that does not meet minimum floor space criteria. The criteria is different for single and double occupancy and adults or children who are under 10 years old.
There are also HMO license laws controlling the number of people who can occupy an HMO bedroom.
Information on HMO bedrooms can be found on the government website.
How many bathrooms should an HMO have?
Licensed HMOs that don't provide bathroom facilities for each tenant, are required to have a minimum number of bathrooms with specific facilities based on the number of occupants of the property.
The number of bathrooms required differs whether there are four or fewer occupants and five or more occupants, for larger HMOs greater provision is required to include separate additional toilets with sinks. There are also stipulations for larger HMOs around the provision of a sink in the bedroom.
The overarching rules around bathrooms require that:
The main bathroom must have a bath or shower and a toilet
They must be heated and ventilated adequately
They must be of an adequate size
Baths, toilets and sinks must be fit for purpose
They are located in a suitable position within the property
Click through to read UK government legislation relating to bathrooms in HMOs.
Tenancy types
There are two ways to set up tenancy agreements for tenants in an HMO.
For smaller HMOs, of up to 5 bedrooms, could use one Assured Shorthold Tenancy agreement (AST) which all tenants sign up to.
Why set up an HMO with tenants on one AST? Some high street lenders offer lower rates than specialist HMO products, where properties are set up like this. This is because the property remains set up for multi-tenant use or single household use, which means if the lender ever had to take possession of the property, as a result of unpaid mortgage payments, the property could easily be put on the market and sold to reclaim losses.
For small or large HMOs, the alternative is to set up AST's for each tenant, but bear in mind that this would automatically mean any mortgage you took out would be with specialist lenders only and not the cheaper rates offered by high street lenders. If your property has more than 5 bedrooms, then this will be the case regardless.
Advantages and disadvantages of an HMO
Advantages
High yields: HMO property tends to be more profitable than standard buy to let because yields (return on investment over time) are higher. This is due to an HMO receiving a rental income per bedroom which when added together usually exceeds the amount you would get if you rented the whole property to one household:
For example, a four bedroom house with a living and dining room might attract a rent of £1300.
But, if each bedroom was rented out and the dining room was converted into a bedroom too, you might get £450 per room per month, a total of £2250.
Lower impact rental arrears: Given HMO's have multiple tenants at once, if one leaves and you can't fill the room, you are still receiving rent from the others. This lessens the impact on your income than if you were renting the whole property to one household, who left and you struggled to re-tenant the property.
Demand: HMO properties are in demand by students, junior executives, overseas workers, and other contractors because they offer the possibility of moving in relatively quickly and easily, as they are fully furnished and do not require the settings up of bills, which are usually included in the rent.
Capital growth: Since HMOs are widely popular with both students and working professionals, they are usually located in prime areas, such as city centres, around colleges and universities, or locations that offer short bus routes into urban areas and have necessary everyday amenities. HMOs are typically larger properties too. These two factors in combination generally make for more favourable capital growth over time.
Disadvantages
Management and administration: HMOs are more complicated to administer and manage, because you are dealing with multiple tenants under one roof and because there are more laws and regulations involved.
Wear and tear: More people in a property typically results in a greater level of wear and tear, and if you are letting to highly sociable groups, house parties may from time to time create issues.
Financial risk: HMOs are typically larger properties, so the overall financial investment is greater and therefore carries more risk. Mortgage rates are more expensive, which means monthly costs are higher, but higher rents usually counteract this being an issue.
Tenant disputes: Due to the fact that HMOs have facilities that are shared between the tenants, disagreements may arise at a certain point. Landlords might need to settle any disputes to stop any conflicts from emerging, appointing a letting agent should resolve this being an issue.
Furnishing: Generally, HMOs are fully furnished properties, whilst standard buy to let properties are usually rented unfurnished. Thus, landlords must consider the additional expenses required to furnish HMO properties.
Getting an HMO licence
HMO licensing exists within the private rental sector to make sure that property of this type is managed and maintained properly. Multi-household living within one building requires additional health and safety measures to keep all tenants safe that go beyond a single let property.
Mandatory licencing applies to all HMO's with 5 or more tenants and 2 or more households.
Additional licensing and selective licensing are schemes that may be imposed by local councils to manage HMO's in their region.
The council local to the property you are interested in (if purchasing) or that you own (if remortgaging), will have information on local rules around HMO licencing and will be who you apply to if you need a licence.
You can use the government website to find which local council you need to speak to about HMO licences:
Licences in England and Wales
Licences in Scotland
HMO FAQ
What is an HMO mortgage?
An HMO mortgage is a specialist type of mortgage for properties where more than 3 tenants from multiple household groups live. They are used by landlords who want to rent out this type of property.
Can I buy an HMO with a mortgage?
HMO mortgage lenders usually look for borrowers to have experience in renting property (e.g. renting a property to one household) before they lend on HMO mortgages. It is not impossible to buy an HMO without experience in renting property, but the number of products available are fewer.
What is the interest rate on an HMO mortgage?
Mortgage rates change all the time, to get an accurate idea of the available rates, use our buy to let mortgage calculator and check the box which says "HMO" to filter the results to relevant products.
What deposit do you need for an HMO?
You will need to put down at least a 20% deposit to secure an HMO mortgage.
Can a landlord live in an HMO property?
Yes, it is possible to let out an HMO property as a live-in landlord.
Can an HMO licence be refused?
Yes, if your application does not meet council's requirements, it may be refused.
Can I apply for HMO mortgage for a flat?
Yes, it is possible, most lenders will view this the same way as a house. Generally flats have fewer bedrooms so are not as commonly used as an HMO.
Can I purchase an HMO property as a British expat?
Yes, it is possible. However, there is a limited number of lenders that offer BTL mortgages for expats.
Can I purchase an HMO property as a foreign national?
Lenders will require you to have 2 to 3 years of address history in UK. If you are based outside of UK, the number of products will be much lower and more expensive.
Related articles