This information should not be interpreted as financial, tax or legal advice. Mortgage and loan rates are subject to change.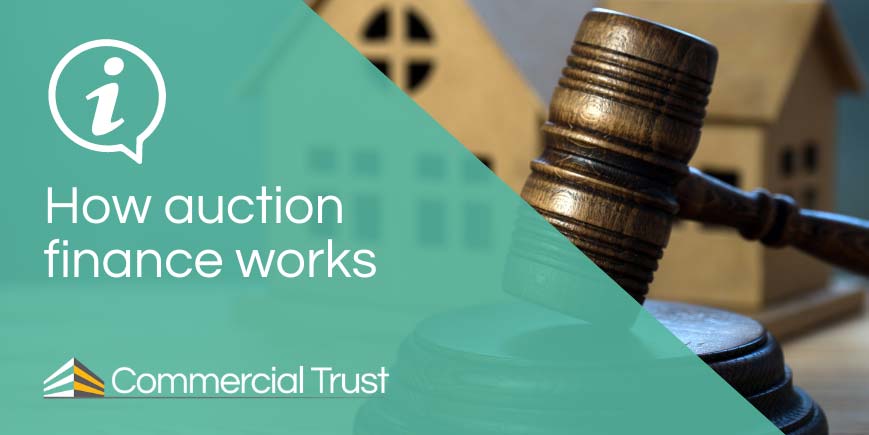 Categories: bridging loans | guides | bridging loan guides
Buying a property at auction can be a worthwhile but challenging experience, especially when it comes to securing funds. The standard mortgage process is not suitable for buying a property under the hammer, due to the timescales. This is where auction finance comes in.
Auction finance is a funding solution for buying property at auction. This loan allows you to quickly access funds to purchase an auction property, allowing you to benefit from a great property deal.
If you find yourself wondering how does auction finance works, then this guide is for you. We highlight how this loan works, the benefits, and the types of properties you can buy.
What is auction finance?
Auction finance is a type of bridging loan that allows you to buy properties at auction. Auction finance aims to "bridge" the time gap between the property purchase and the arrangement of more permanent finance, such as a mortgage. You should arrange auction finance ahead of the auction date, allowing you to budget and bid with confidence.
Benefits of auction finance
Below are the benefits of using a bridging loan to buy a property at auction:
Fast access to funds
Time is of the essence when dealing with auction property purchases. On the day of the auction, you will need to have 10% of the property value to place as a deposit when you sign the contract. You will then need to complete the full payment within 28 days of the auction date.
Auction finance is offered by bridging lenders. These finance providers understand the time-sensitive nature of auction transactions. They can facilitate the swift release of funds, often within a few days. This allows you to quickly act on auction opportunities.
Can you buy an uninhabitable property?
Traditional mortgages require that the purchase property be habitable. This means that the property will need a functional kitchen and bathroom.
Auction finance provides an excellent alternative for buyers interested in properties that are currently deemed uninhabitable. Auction finance primarily focuses on the potential of the property post-renovation rather than its existing state. This enables you to secure funds for properties that require significant work.
Fund any renovations
Auction finance can fund the refurbishments required to restore an uninhabitable property. It can also fund any renovations to improve the property and increase the property value.
How does auction finance work?
We explore how auction finance works:
Eligibility criteria for auction finance
The specific eligibility criteria for auction finance will vary depending on the lenders. The main considerations will be if you have the deposit and a strong exit strategy. The deposit for auction finance is typically a minimum of 25% of the loan amount.
An exit strategy is how you plan to repay the auction finance. Your exit strategy can be to sell the property and use the income from the sale to cover the loan. You can also take out a buy to let mortgage or a commercial mortgage, depending on the property type.
Lenders may also look at your income, credit history, the property value, and other financial information to determine your eligibility.
The auction finance process
The auction finance process should begin before you attend the auction. As a prospective bidder, you should secure an agreement in principle (a statement of intent to lend you the money, assuming all factors of the deal remain the same) from a lender before the auction.
This gives you a clear idea of your budget and can speed up the financing process after a successful bid, it will also determine the maximum you can bid to secure the property.
Start by researching various auction finance providers to find one that fits your requirements. You can compare the interest rates, fees, loan terms, and reviews from other borrowers. Once you found a lender that matches your requirements, you can then complete an application.
A specialist bridging loan broker can do all this work for you, making sure you have the best deal from a wide range of lenders. Brokers take most of the work out of this process, saving you time and energy.
If your application is successful, the lender will provide you with a formal offer. This will detail the terms and conditions of the loan. After the loan is agreed upon, the funds can be released.
Once you have won the auction bid and paid the deposit on the property, you can then use the auction finance to make the full payment within 28 days.
Top tips for getting auction finance
Securing auction finance involves a strategic approach.
Here are a few tips to help you successfully navigate this process:
Prepare early: Start the process well ahead of the auction date. This allows time to secure an agreement in principle. It also allows you to plan a strong exit strategy that can help secure your loan.
Property valuation: Consider having a valuation and a survey done on the property before the auction. This information can give you an edge during the auction, although once you have won the bid on the property, the lender of the bridging loan will require you to survey the property's value anyway – so valuations prior to auction may not be necessary.
Get expert assistance: Auction finance brokers can help make the process easier to obtain auction finance. A broker will have access to a wide range of lenders, ensuring that you can access auction financing easily. They will also make the application for you.
Comparing auction finance to "traditional" mortgages
Traditional mortgages, such as a buy to let or commercial mortgage, are a common form of long-term financing for property purchases. The approval process for a traditional mortgage can be lengthy. They often require a detailed assessment of the borrower's credit history, income, and the condition of the property.
Auction finance is a short-term funding solution. It provides quick access to funds, which is essential given the fast-paced nature of auctions. Auction finance also allows for the purchase of properties that may not qualify for traditional mortgages, such as those in need of significant renovations. However, this loan usually attracts higher interest rates than traditional mortgages.
What types of properties can you buy with auction finance?
Auction finance allows you to buy a diverse range of properties. These include residential and commercial properties, uninhabitable properties, and below-market value properties for flipping. You can also purchase land for property development. The flexibility of auction finance makes it possible to buy properties that traditional mortgage lenders might avoid.
Is auction finance the right option for you?
Auction finance can be an excellent resource if you need quick access to funds or if the property you aim to buy does not qualify for a traditional mortgage. You should consider the higher interest rates before choosing this financing solution.
Commercial Trust offers auction finance, get in touch with an expert today
Get fast and easy access to auction finance with Commercial Trust.
We work with a wide range of auction finance lenders in the UK, which means we can get you a great deal. Our team of experts are also available to guide you through the details of auction finance.
Get in touch to discuss your auction finance needs today.
FAQs
Auction houses usually require a 10% deposit on the auction day. The balance is then payable within 28 days.
You do not need to have the entire cash amount available to buy a house at auction. You will have to pay the deposit and the auctioneer fees on the day of purchase. You can pay the remaining amount within 28 days of the auction date. Auction finance can provide the funds needed to meet this requirement.
Related articles