This information should not be interpreted as financial, tax or legal advice. Mortgage and loan rates are subject to change.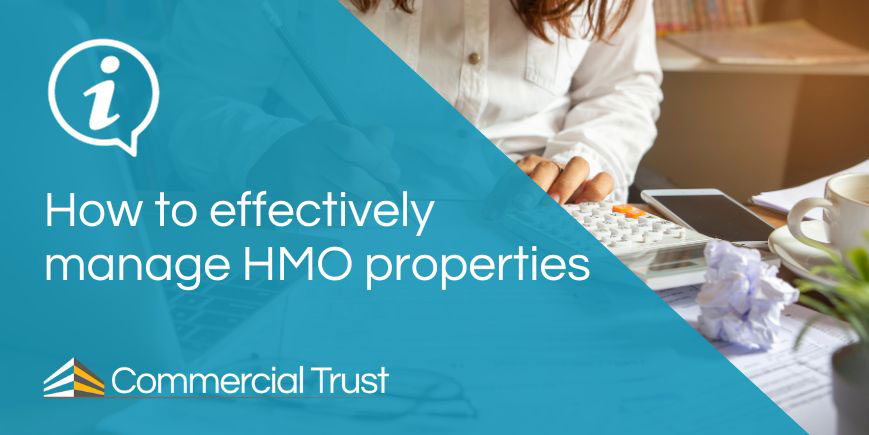 Categories: hmo | guides | buy to let mortgage guides
A House of Multiple Occupation (HMO) is a house where multiple tenants live together. They share common areas like the kitchen and bathroom, but each has their own private bedroom.
HMO properties can generate higher rental yields compared to regular rental properties. You can fund their purchase with a HMO mortgage.
Success as a HMO landlord relies on knowing how to manage HMO property effectively.
The basics of HMO management
Managing an HMO property takes more than managing a regular rental property. You must deal with multiple people living together in the same place. Standard rental property management focuses on maintaining the property and keeping it occupied. However, HMO management means taking care of communal areas too.
You also need to follow the legal regulations for HMOs, and maybe resolve tenant conflicts. Landlords overseeing HMO properties need specific skills and knowledge.
Legal and regulatory aspects
When you manage an HMO property, it's crucial to understand and follow relevant regulations.
Understanding regulations
HMO regulations are legally-bound rules that guide landlords and property managers. They ensure properties with multiple occupants are properly managed. These rules include things like how big rooms need to be and how to handle refuse.
HMO licences
If you're renting out an HMO property, you may need an HMO licence. This license shows that the property meets local standards and can be used by multiple tenants.
You are legally required to have an HMO licence if the property is rented to five people or more who are from more than one household. Smaller HMOs with fewer tenants may still need a licence, the regulations for this are imposed by the council local to the property.
If you are unsure which council regulates your property, use the UK government website to find the local council.
HMO licences are typically valid for up to five years, so regular renewals and checks are necessary, ensuring ongoing compliance.
Local council guidelines
Different councils may have varying guidelines for HMO properties. Landlords must know their local council's rules (the council local to the HMO property in question, which may or may not be the council local to the landlord's home address). Not following them can result in large fines or legal action.
Safety regulations
Safety should always be a top priority when managing an HMO. This includes:
Fire safety: Regular checks on smoke alarms, presence and maintenance of fire exits, and ensuring that fire-resistant materials are used in the property.
Gas safety: Yearly inspections by certified professionals are essential, and landlords must provide tenants with a copy of the gas safety certificate.
Electrical safety: Electrical inspections in rental properties are required at least every five years

. They are necessary to ensure appliances and electrics in general are in good working order, and any issues are rectified promptly.
By following these rules, landlords can keep their tenants safe and avoid legal issues.
Efficient tenant management
For anyone managing an HMO property, having a smooth tenant-landlord relationship is vital. Good management has multiple benefits. It ensures the environment is safe and the relationship with your tenants is harmonious. Also, it helps maintain the value and reputation of the property and you as a landlord.
The importance of tenant vetting
Vetting potential tenants is a crucial step in HMO management. When you know more about the people who come to your property, first and foremost it helps ensure rent will be paid, but can also help establish if someone will fit in with other tenants to avoid someone moving out.
Tenant checks:
This gives an insight into the tenant's history. Where a prospective tenant has rented property before, you should:
Check if they have been reliable in paying their rent
Check that they have never intentionally damaged rental property
Secure a reference(s) from a previous landlord or letting agent (speaking to the landlord or agent via a telephone number you have verified to be genuine can help avoid falsified information)
For all tenants you should:
Undertake identification verification
Get evidence of current income from their employer (speaking to their employer via a telephone number you have verified to be genuine can help avoid falsified information)
Undertake an affordability check, comparing their monthly financial outgoings with the rent you will charge.
Checking a tenant's credit score as an indication of their financial reliability, look for any Country Court Judgements (CCJ), bankruptcy, insolvency. Check for any alias names, identify former addresses lived at.
Right to Rent checks

, to establish the prospective tenant is living in the country legally.
Handling tenant disputes and complaints
In a multi-occupancy environment, occasional disputes are almost inevitable. How they're handled can make a significant difference:
Open communication:
Encourage tenants to voice their concerns or grievances directly. This immediate feedback can help resolve issues quickly and efficiently.
Mediation:
If disputes escalate, consider mediation as a neutral way to come to an agreement. A third-party mediator can help navigate the issue and find a mutually agreeable solution.
Shared spaces and communal areas
With multiple tenants sharing spaces, setting clear and fair rules is essential:
Outline the responsibilities for cleaning and maintaining communal areas.
Establish noise level guidelines, particularly during night-time hours.
Determine rules for guests, ensuring everyone's safety and comfort.
Regular inspections
Consistent property inspections serve a dual purpose:
Ensure compliance:
Check that tenants are adhering to the rules set out in their lease agreements.
Upkeep:
Identify any maintenance issues or wear and tear early on, ensuring the property remains in good condition.
Good practices for managing tenants can help HMO landlords create a peaceful, safe, and well-maintained living space for everyone.
Maintenance and repairs
Managing an HMO property involves more than just collecting rent and handling tenant complaints. HMOs are subject to more wear and tear than single household properties, because typically more use it compared to regular rental homes. Ensuring the property is well maintained is essential for tenant welfare.
Regular maintenance is essential
HMOs have shared areas like kitchens, bathrooms, and communal spaces that are used more often than single household lets. This increased usage necessitates regular checks and prompt action:
Ensure communal areas are kept clean, ensuring they remain pleasant and functional for all residents.
Monitor areas prone to wear, such as hallways and staircases, ensuring they remain safe and presentable.
Ensure tenants deal with rubbish and recycling appropriately to avoid mess and deter vermin.
Reporting repairs and issues
Tenants need a reliable and straightforward way to report issues. You may opt to manage these issues yourself, and have professional contacts for appropriate work. Or, you may use a letting agent to manage this.
Ensure there is a clear process in place, letting tenants know who to contact, provide contact methods and outline the expected response time and what steps will be taken.
Proactive maintenance
Reactive maintenance means waiting for something to break before fixing it. This approach can result in bigger problems and higher costs.
Schedule regular inspections to identify potential problems early on and encourage tenants to make you or your letting agent aware of issues as soon as they arise.
Check for signs of damp, leaks, or structural issues that could become significant problems if left unaddressed.
Contractors and professionals
Building a strong relationship with reliable professionals ensures speedy and efficient repairs. Cultivate a list of trusted contractors, plumbers, electricians, and other specialists who understand the specific needs of HMO properties.
Negotiate terms in advance, ensuring quick turnarounds when repairs or maintenance are required.
Taking care of your HMO property and fixing things quickly is important for its long-term upkeep to maintain its value and for keeping your tenants happy. Being proactive and resolving issues promptly and to a high standard helps prevent bigger long-term problems and keeps your property in good shape.
Financial management and profit optimisation
Managing an HMO property's finances is a delicate balancing act. On one hand, landlords must set competitive rates to attract and retain tenants. Nonetheless, HMO landlords should consider the additional expenses of this type of property and aim to be profitable.
To achieve a good return on investment (ROI), you can combine smart pricing strategies for rent, efficient expense management, and value additions.
Setting rent rates
Pricing your rent is a pivotal factor in the HMO world. Regularly review local market rates, adjusting your prices accordingly. Take into account the unique features, amenities, and services of your property that may justify a higher rent and make sure they are clear in letting adverts.
Regular expenses, bills, and other overheads
Efficiently managing outgoings is key to ensuring profitability. Implement a robust accounting system to log and monitor all expenses. Regularly review outgoings to identify any areas where savings can be made.
Value-added services or improvements
Adding value can set your HMO apart and increase profitability. Consider offering inclusive services like cleaning, Wi-Fi, or garden maintenance, which can justify higher rents. Invest in improvements that enhance the property's appeal or reduce long-term maintenance costs.
Rent collection
Consistent cash flow is paramount. To make rent collection easier, encourage your tenant to set up a standing order to pay on the date the rent is due. Have clear policies and procedures for dealing with late payments or arrears.
Communication
Effective communication is necessary in HMO property management. Establishing open and clear communication with tenants builds trust, encourages teamwork, and improves the shared living experience.
Regular and clear communication with tenants
A well-informed tenant is often a happy tenant. By maintaining open lines of communication, misunderstandings or misconceptions can be swiftly addressed. Regularly checking-in with tenants can provide insights into their needs, suggestions, or potential issues that might arise.
Communications from tenants
Prompt responsiveness is key to building trust with of all your tenants, if you are effective in responding to tenants, you are in a better position to expect positive behaviours and actions from them.
Providing tenants with regular updates
Give advance notice to tenants on planned maintenance works, changes in house rules, or any other relevant developments and provide regular updates as appropriate.
Inform tenants about any changes in local regulations or laws that might affect their tenancy.
Making use of technology and training
The digital age is changing the property management sector too. Using technology in HMO property management can make things work better, make tenants happier, and reduce manual tasks a lot.
Some technology is more appropriate for portfolio landlords with many properties, or will be used by letting agents, but others can be useful to all landlords.
Property management software
Property management software can consolidate tenant information, rent tracking, and maintenance scheduling into one platform.
It can also provide analytics and insights into property performance, occupancy rates, and financial trends.
Apps or platforms
Apps can facilitate efficient rent collection, allowing tenants to make payments with a few taps.
Platforms can offer an easy way for tenants to report maintenance issues or communicate directly with the management.
Staying informed about regulations
Regularly consult local council websites or industry publications to stay informed of any regulatory changes.
Implement these changes promptly to avoid non-compliance and potential legal complications.
Training or seminars
Attend industry-specific training sessions or seminars to sharpen your management skills and stay current.
Consider investing in courses that cover emerging trends or technologies in property management.
Networking
Joining industry associations or groups can offer valuable networking opportunities.
Engage in discussions, share experiences, and learn from the successes and challenges of peers.
To be a good HMO property manager, it's important to train regularly and stay updated. To ensure your property is well-managed and competitive in the market, focus on education and networking.
A summary on managing HMO property
Managing HMO properties can be both rewarding and challenging. It requires regulatory adherence, financial acumen, and good communication skills.
The pillars of effective HMO property management:
Understand the differences from single household rentals
Adhere to health and safety regulations
Ensure tenants clean and dispose of rubbish appropriately
Encourage tenants to alert you/your letting agent of any problems
Collect rent effectively and deal with unpaid rent quickly
Balance rent charges with maintenance and mortgage (if applicable) costs to remain profitable
Following these overarching guidelines will help you and can lead to a high yielding property investment for years to come.
FAQs:
A good HMO property boasts an optimal location, offers modern amenities, complies with safety regulations, and caters to the specific needs of its target tenant demographic.
A letting agent or landlord of an HMO must:
Provide a safe living environment, adhering to local safety regulations, including fire safety and working smoke alarms, gas (annual checks), and electrical safety standards (5-yearly checks).
Provide a fresh water supply and drainage.
Provide appropriate rubbish bins (the right number and size).
There must be no overcrowding.
Where an HMO licence is required, bedrooms must meet minimum sizes requirements .
You should also offer clear communication channels, prompt maintenance services, and uphold tenant rights as per local regulations.
HMOs, when managed effectively, can be more profitable than traditional rentals due to the ability to rent out multiple rooms individually. However, profitability depends on factors such as location, demand, property condition, and effective management.
Related articles