This information should not be interpreted as financial, tax or legal advice. Mortgage and loan rates are subject to change.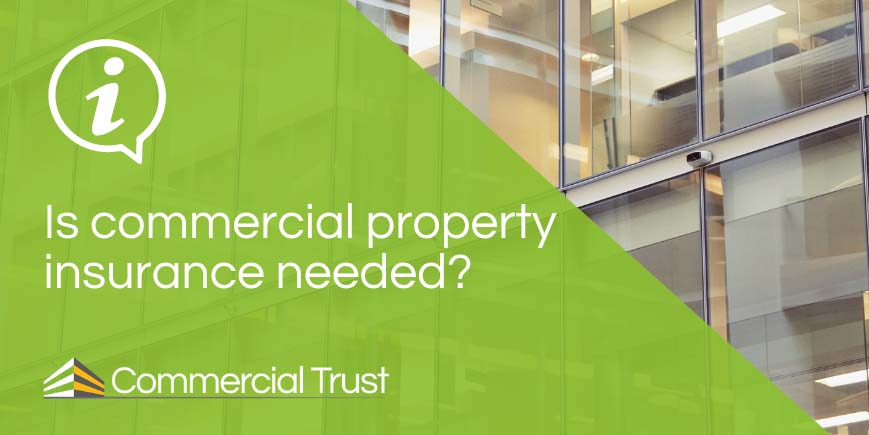 Categories: commercial mortgages | guides | commercial mortgage guides
Once you have successfully purchased your commercial property with a commercial mortgage, your next step is to get commercial property insurance.
Commercial property insurance is a policy designed to prevent commercial property owners and landlords from experiencing financial losses. This insurance will provide coverage against property damage, content damage, and theft, allowing landlords to protect their commercial property investment.
In this blog, we outline the importance of insurance for commercial property landlords, discuss what is and is not covered, and the expected costs of insurance for commercial property.
If you are wondering how to buy commercial property, Commercial Trust offers commercial mortgages that will enable you to quickly and easily finance a commercial property.
Do landlords need commercial property insurance?
Insurance for commercial property is essential for landlords. The insurance protects landlords against financial losses that can arise from events that cause damage or loss to the property and its contents. Without insurance, landlords will have to bear the expenses to replace or repair damaged assets.
Purchasing a commercial property represents a significant investment. For many landlords, their rental commercial property is also their main income source. With insurance, landlords can ensure their property value or ability to generate revenue from the property will not be impacted.
Insurance may also be required if you have a commercial mortgage. Lenders often require borrowers to have insurance coverage on their property to protect their financial interests. It is important to assess your commercial mortgage terms to determine if you need insurance.
What is covered under commercial property insurance?
Commercial property landlord insurance will cover the expenses associated with repairing or rebuilding the physical structure of your commercial property.
This includes protection against damages caused by events such as:
Fires;
Storms;
Vandalism;
Theft;
Fallen trees;
Burst pipes;
Subsidence.
The insurance will also cover landlord-owned contents in the commercial property that are damaged or stolen. Contents that may be covered include items such as furniture, equipment, or appliances.
What won't be covered under your commercial property insurance?
Insurance policies for commercial properties typically exclude certain types of events or damages from coverage.
We have listed a few examples of what typically is not covered by commercial property landlord insurance:
Wear and tear: Wear and tear from the natural ageing of a property is not covered by insurance. The landlord will be responsible for the costs associated with routine maintenance.
Natural disasters: Natural disasters, specifically earthquakes and floods, usually require separate policies to be added to the coverage.
Tenant's personal property: Tenants must obtain their own insurance to protect their belongings, such as their commercial machinery, stock, or office furniture.
Intentional acts of damage: Intentional damage to the physical structure of the property or property contents caused by the landlord or tenants are not covered.
Nuclear hazards or war: Nuclear hazards or war-related events are considered extraordinary events and are generally excluded from standard insurance policies.
How much would commercial property insurance cost?
Numerous factors impact the cost of insurance for commercial property.
For example, if your property is in an area with a high crime rate, you can expect a higher insurance policy cost. The age of your commercial property will also impact the costs, as older buildings may result in more expensive issues to repair. If you have selected a policy with wide coverage, you can also expect a higher insurance policy cost.
The type of business your tenants conduct will also determine your insurance policy costs. If your property is leased to tenants in high-risk industries, such as manufacturing businesses that use hazardous materials, you may require higher coverage to protect against the potential for accidents or damage.
A commercial property insurance broker can help you find an insurance policy that suits your budget. As commercial property insurance professionals, they can source the best insurance policy for your specific commercial property needs.
How to get commercial property insurance
You can choose to work with a commercial property insurance broker or complete the application process independently to insure your commercial property.
Obtaining insurance with a broker involves researching and selecting a reputable professional, consulting with them about your needs, and reviewing the policy options they present. The broker will then guide you through the application process.
To get insurance without a broker, you will need to determine your coverage needs and gather commercial property landlord insurance quotes. After comparing and reviewing the quotes, you can then complete the application with your selected provider to finalise the policy.
Whether you use an insurance broker or complete the process yourself will depend on your preferences and experience with dealing with insurance providers. By partnering with an insurance broker, you can save time, effort, and potentially money, while ensuring that you secure the most suitable protection for your commercial property investment. Completing the process yourself offers more control over your policy options and does not involve broker fees.
What other commercial insurance does a landlord need?
As a landlord of a commercial property, you can choose various insurance policies to ensure you are fully protected against financial liabilities. In addition to commercial property insurance, you can have a property owner's liability insurance policy, an umbrella insurance policy to protect against large claims or lawsuits, and accidental damage cover.
Interested in a commercial mortgage? Then get in touch with Commercial Trust
With Commercial Trust, you can secure a great deal on a commercial mortgage for your commercial property investment. We have access to an extensive range of UK lenders to ensure you secure a commercial mortgage suited to your needs.
Our commercial mortgage team is comprised of experienced mortgage advisors and mortgage account managers. We will ensure that through every step of the commercial mortgage process, you are expertly advised and supported.
Quickly calculate your monthly mortgage repayments or chat with an expert mortgage advisor to discuss obtaining a commercial mortgage.
FAQs
Commercial property insurance is not a legal requirement for landlords. However, insuring your commercial property is essential to protect against financial losses, maintain the property's value as a significant investment and income source, and meet commercial mortgage lender requirements.
You can get protection in the form of loss of rent or unoccupied property insurance. These policies provide coverage for the loss of income resulting from vacancies or periods when your property is unoccupied.
While not legally required, it is recommended to have insurance even if you don't have a mortgage. This coverage protects your investment from potential financial losses due to damages.
The landlord is responsible for commercial building insurance, which covers the structure and landlord-owned content of the property. Tenants will have to insure their belongings.
Related articles