This information should not be interpreted as financial, tax or legal advice. Mortgage and loan rates are subject to change.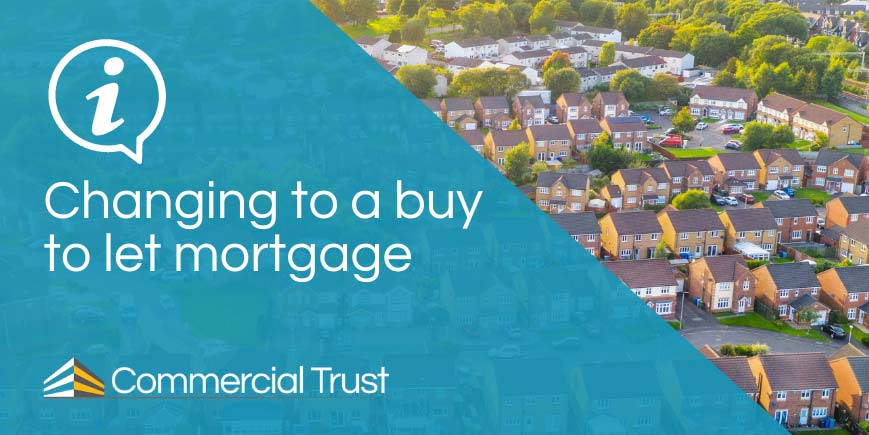 Categories: buy to let mortgages | guides | buy to let mortgage guides
Changing to a buy to let mortgage can be an important decision for homeowners who wish to rent out their property.
In this guide, we will explore the process of changing from a residential mortgage to a buy to let mortgage, providing helpful information for homeowners considering this transition.
We will cover the following key topics:
Let's delve into the details of each section.
Making the transition
Seeking consent to let
If you are temporarily renting out your former home, you might choose to ask your residential mortgage lender for "Consent to let". This is the formal permission obtained from a residential mortgage lender to rent out your property.
Typically, a lender will make a change to your current mortgage, to cover the risk to them of this change.
Bear in mind that if you are on capital repayment terms with your residential mortgage, and potentially facing an increase in the monthly cost through a consent to let arrangement, this may result in higher monthly cost.
You should weigh this up against switching to a buy to let mortgage, to see which solution (especially the costs) suit you best.
To discuss a consent to let, contact your lender, explain your intentions, and discuss the process, terms, and any associated fees.
Switching to a buy to let mortgage
Check if early repayment charges (ERCs) apply
One of the first things to do, before switching to a buy to let mortgage, is to check if your existing mortgage is within its initial rate period. If it is, you are likely to be subject to "Early repayment charges" (ERCs), this means you will be charged money to exit your mortgage contract.
If this is the case, a temporary "consent to let" may be a cheaper option (see above), or, you can wait until your initial rate period has ended, at which time you are free to remortgage to a buy to let mortgage.
The date of the end of your initial rate period will be on the terms of your current mortgage.
Assess how long you will be renting the property
If you are only renting your property for a short period – for example if you are working abroad temporarily – gaining a consent to let may be the right option for you.
However, if you are expecting to rent the property for longer (two years or more) or indefinitely, then switching to a buy to let mortgage could be the right solution.
Interest-only or capital repayments?
If you are no longer keen to eventually own the property (as it is no longer going to be your home) you can opt to pay on an interest-only basis rather than capital repayment. On a like for like basis, the monthly payment would be lower. This may mean your profit from rent after costs (e.g. the mortgage, letting agent fees, if you use one) is greater.
Bear in mind you will not be paying back the mortgage, just paying the cost of borrowing from the lender. So, the portion of the property you own will not increase each month until you own it outright.
If you do eventually want to own the property, you can choose capital repayments instead. It all depends on what your investment strategy is for switching to buy to let.
Is your property ready to rent?
Some of the things you need to do, when changing to a buy to let mortgage and readying your property to rent, are:
Cleaning and repairing: Thoroughly clean the property and address any necessary repairs. Ensure that all systems are in working order, such as plumbing, heating, and electrics (gas and electrical safety checks must be conducted by a qualified professional and a certificate issued). Take care of any cosmetic issues like repainting walls or replacing worn-out flooring.
Safety checks: Install or inspect smoke detectors and carbon monoxide detectors to ensure they are in working condition. Some rental properties require the landlord to provide fire extinguishers as a safety measure.
Furnishing and appliances: Determine whether you will offer the property as furnished, partially furnished, or unfurnished. If providing appliances, ensure they are in good working order and meet safety standards.
Energy performance certificate: Landlords are required to provide this to tenants.
Inventory: It is sensible to have an inventory made of every room, and the exterior of the property, with photographs as evidence of the condition and contents of the property when handed over to the tenant.
Tenant screening: It is important to establish that the tenant has the means to pay the rent, are legally allowed to live on the UK, and that you check their identification. References from an employer can help indicate if they will be able to keep up with the rent.  References from a former landlord may indicate what they are like as a tenant. You must seek permission from the tenant to approach these parties for this information.
Tenancy agreement: You will need to issue a tenancy agreement which outlines the terms of your renting your property to the tenant. It must be easy to understand, with no unfair terms or conditions. A letting agent or landlord association may be able to provide you with a template document, the UK government provides a model shorthold tenancy agreement.
Be aware there are minimum standards for rental housing that you must uphold.
Informing insurance providers
Notify your current insurance provider that you will be transitioning to a buy to let arrangement.
Ensure your insurance policy covers the change from residential to rental use, and consider obtaining suitable landlord insurance to protect your investment.
You may need a different policy specifically suited to renting property. A buy to let mortgage lender will require you to have buildings insurance as a minimum, as they are at risk from damage to the property too.
Researching lenders and rates
Finding buy to let mortgage lenders
To find suitable lenders, you can consult various resources, including online mortgage comparison websites, mortgage brokers, and banks.
Research different lenders' offerings, considering interest rates, fees, and customer reviews to make an informed decision.
It is reasonable to find this an overwhelming task, which is a good reason to turn to a mortgage broker for help. There are over 80 lenders in the buy to let mortgage industry, and thousands of products.
A broker can quickly match you to a lender and product suitable to your needs and circumstances. This may come with a fee, but is likely to save you enormous amounts of time, work and stress.
Comparing interest rates and terms
When comparing buy to let mortgage rates, be mindful of both the initial rate and the overall term.
Assess any fixed or variable interest rates, as well as associated fees, such as arrangement fees or early repayment charges.
Look for competitive rates that align with your long-term investment goals.
Buy to let mortgages can have what is called an 'initial rate period' also called a 'deal period', over which a specific mortgage interest rate applies. After this, you would revert to the lenders 'reversion rate', which can be its 'standard variable rate'. This tends to be higher than the initial rate, or deal, that you first paid (say over 2 or 5 years).
When you get to the point your initial rate period is about to end (3-6 months before) you can start researching a new deal. A mortgage can help with this, just as they can help with finding your first mortgage deal.
Applying for a buy to let mortgage
Gathering required documents
When applying for a buy to let mortgage, you will need to gather various documents, including:
Proof of identification and address
Proof of income and employment
Property details and rental income projections (you can get these from an estate agent, or look at a property portal website to find similar properties in your area, to see what rent they are receiving)
Bank statements and tax returns
Completing the application form
Carefully complete the buy to let mortgage application form, ensuring accurate information and transparency. Double-check the form for any errors or omissions that could affect your application's success.
A mortgage broker will do all of this for you, all you have to do is make sure you give your broker accurate information when answering their questions.
Understanding affordability criteria
Lenders assess affordability based on your projected rental income. Some may look at your personal financial circumstances.
Familiarize yourself with the criteria to understand how lenders determine your eligibility, or use a broker who can guide you through all of this and match you to a lender.
Meeting the mortgage requirements
Property assessment and valuation
To secure a buy to let mortgage, the lender will assess the property's value and rental potential. They typically require a professional valuation survey to ensure it aligns with their lending criteria.
Some lenders offer a 'desktop' valuation, where online resources are used to establish the value and rent for your property. This is the quickest method. Other lenders will want a valuer to visit your property. This takes longer than a desktop valuation.
Prepare your property accordingly and be aware of any necessary repairs or improvements.
Mortgage approval process
Once you have submitted your application, the lender will review it, alongside the property valuation report.
They will evaluate your creditworthiness, affordability, and the property's suitability. If approved, you will receive an offer detailing the mortgage terms.
Insurance considerations
Insurance is crucial when changing to a buy to let mortgage. You will need to secure landlord insurance to protect your property and cover potential risks.
Additionally, consider rental guarantee insurance, to safeguard against tenants not making rental payments.
Get expert help changing to a buy to let mortgage
Changing to a buy to let mortgage can be a beneficial step for homeowners looking to enter the rental market.
Working with professionals such as a letting agent (to manage the letting of the property) and a mortgage broker, like Commercial Trust, to find you a suitable mortgage can save you time, money and stress.
Chat to our expert mortgage advisors today about switching to a buy to let mortgage, and the deals available to you.
Related articles