This information should not be interpreted as financial, tax or legal advice. Mortgage and loan rates are subject to change.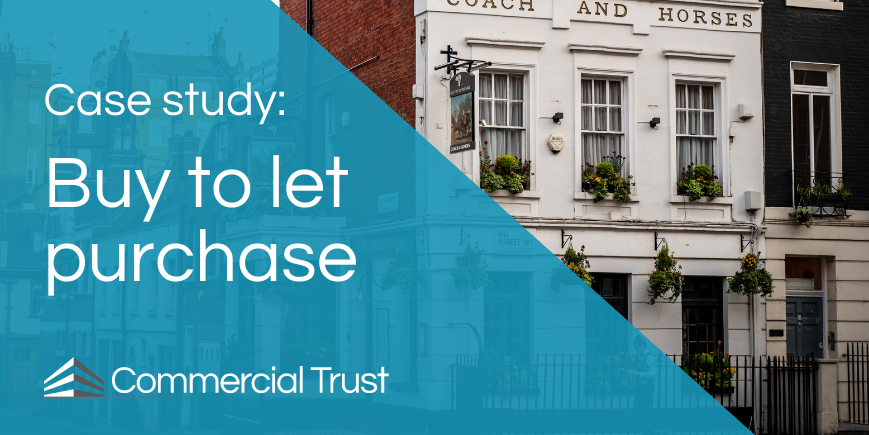 Categories: Case study | buy to let mortgages | first time landlords | bad credit and debt
Summary of the case
Buy to let property purchase of a 1 bedroom flat
Property value was £85,000
Property was next door to a pub
Client was not an owner occupier
Client was a first time landlord
Client had a low credit score
Tenant was client's partners son
What we achieved for the client
Overcame all challenging factors of the case
Achieved full borrowing amount
Secured high loan to value of 80%
The challenges of the case
The case for this client was very interesting, and presented us with a number of factors to overcome with our search of lender products.
Below is a list of five challenges we faced in securing a buy to let mortgage for this client:
1. A lender may refuse a low value buy to let property
Some lenders set a minimum property value in their criteria.
This is because, any downward shift in house prices makes a property of lower value more vulnerable to falling into negative equity. If a lender had to call-in the debt and take possession of the property, they could face a potential loss.
At £85,000, the value of the property the client intended to buy was relatively modest. Fortunately, some lenders are more flexible and in this case we were able to find a solution.
2. A commercial property next door can affect investment in a buy to let
Having a commercial premises next door to a buy to let property can affect a lending decision.
As with any property, there are factors that can make it more or less desirable to live in. In this case, the commercial property was a pub. Pubs come with the risk of noise, which could well run into the night, mess and other issues.
With this in mind, some lenders will not want to offer a loan secured on a property next door to a pub, or other commercial premises, due to the re-saleability of the property.
This comes back to the scenario of the lender having to recoup their lending, if they were forced to repossess the property.
3) If you don't own your own home, lenders need to be sure your buy to let is not for you
You can absolutely get a buy to let mortgage if you don't own your own home.
However, lenders will want to be sure that your motivation is not to live in the property. In the industry, this is called a "back door residential" deal – where someone applies for a buy to let mortgage, but actually wants to live in the property themselves.
This client was living with their partner, with clear ties to another property, so this satisfied the lender that this was not the case in this instance.
What's more, whilst this client did not currently own their own home or other property, they had previously owned property, which they could evidence. Whilst this isn't always necessary to demonstrate because, as mentioned above, first time buyers can be first time landlords, where it is the case, some lenders who prefer property ownership experience may find it favourable.
Whether you are fresh onto the property market or have experience, there are a range of options we can explore for you.
4) Low credit scores can impact buy to let investment
A low credit score does not always stop you getting a buy to let mortgage. It can, but it depends on the recency and severity of your credit challenges.
The risk associated with lending someone money is greater, where it is clear they have struggled to meet repayments in the past. However, some buy to let mortgage lenders welcome clients who have been faced with these circumstances and actively want to help.
We were able to identify a lender who accepted the circumstances of this client.
5) You are renting buy to let property to family
Typically you cannot rent a property on a buy to let mortgage to a member of your family. This again comes back to mitigation of risk to the lender.
If you were renting to a family member who faced financial problems, meaning they could not pay you rent, it is likely that as the landlord you would be unwilling to ask them to move out, so you could find a paying tenant.
In the instance of this client, the relationship between the landlord client and tenant was accepted by the lender, but this was something we had to cross check.
Multiple lending factors in one buy to let application
As you can see above, this case combined a number of factors that we had to overcome, to find the client a suitable solution.
As a specialist broker, this is exactly what we are here for. It is why using a specialist broker can be advantageous. We have detailed knowledge of the potential tripping-points, which a generalist broker might miss.
Lenders send a valuer out to the property, in the early stages of their due diligence. If any of the elements of this case had been overlooked and not put to the lender, an application could have been made, only to be turned down, with potential loss of the costs of a valuation to the client.
This is why, when we speak to you about your requirements, we will ask you a number of questions to ensure we deliver a robust product recommendation, having matched you to a lender whose criteria fits your needs and circumstances. It is also why accuracy in the information you give is vital.
If any of the aspects of this case echo your own circumstances, call the team on the freephone number above, we will be happy to help.
Related articles