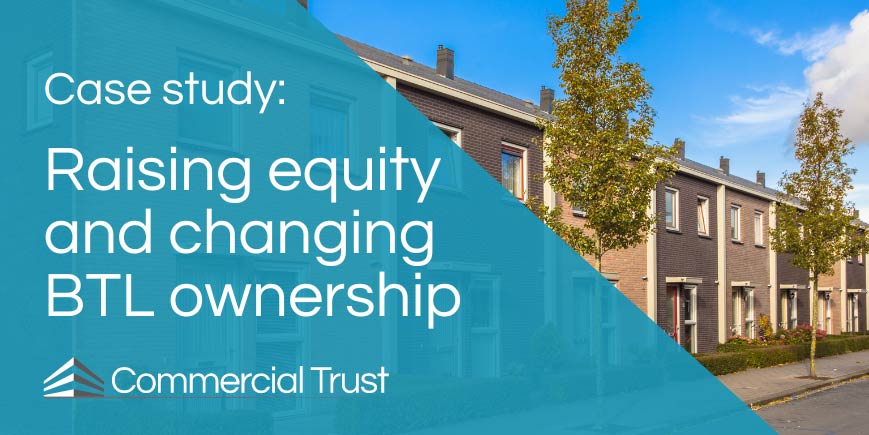 Summary of the case
Applicant was 23 years old, having first bought a property at age 22 with gifted deposit from grandfather
Applicant does not own their own home, just the buy to let property
Application was through a limited company
Security property was adjacent to commercial premises
What we achieved for the client
Borrowing of £76,000
80% loan to value deal
5 year fixed rate at 4.05% per annum
The challenges of the case
In this instance, our client was raising capital from a property they owned outright, having bought it at just 22 years old, using a gifted deposit from their grandfather.
The client wanted to raise funds for further investment in buy to let property, and wanted to do so via a limited company structure.
Changing buy to let property from personal name into a limited company
When a property is owned out-right and the owner wants to take out a buy to let mortgage on it, in order to raise capital from the equity this would be classed as a remortgage, if the mortgage was taken in individual names (i.e. where there is no change in legal ownership).
However, where the objective is to move the ownership of the property into a limited company, a purchase product will be needed.
This is because the limited company is, in essence, buying the property from the current owner (even though the existing owner is the person who has set up the limited company).
In a purchase scenario, stamp duty is typically payable.
We advise all clients to take professional tax advice when considering investing in property through a limited company, especially when considering changing property already owned into a limited company structure. There are pros and cons to be weighed up, and tax is a significant factor.
Investing in buy to let property adjacent to commercial premises
You may not anticipate this, but if a property you intend to invest in is near a commercial premises, then some lenders may be unwilling to lend against it.
This is because nearby commercial buildings can impact the saleability of a residential property, which is important to the lender, if the need ever arose retake possession and sell the property to recoup a mortgage debt.
Lenders assess the proximity of the commercial premises in different ways. Generally, one of the following three measurements will be used in lender criteria, to define whether the distance of a commercial property to the property you are investing in is acceptable to them:
100 yards (around 91 metres) of the security property, or;
Within the same postcode of the security property, or;
On the same street as the security property
In addition, the type of commercial premises can influence a lending decision. A lender will consider the following when it comes to nearby commercial property:
Will the commercial property generate smells that will impact the security property (e.g. restaurants, fast food establishments)?
Will the commercial property be open outside standard office hours which may cause noise and disturbance that could impact the security property?
Does the commercial property present any potential hazards to the security property (e.g. petrol station)
Having a commercial property nearby will not stop you investing in property you want to let out, but it is one of the factors your mortgage advisor will take in to consideration when looking for a suitable lender for you.
What is the minimum age you have to be to invest in buy to let?
You must be at least 18 years of age to invest in buy to let property. But, there are other factors at play to be aware of.
If you are investing in your first buy to let property, regardless of your age, your income will be assessed against the affordability of the mortgage, where normally on a buy to let mortgage, the rental income is used to assess mortgage affordability.
Age becomes somewhat of a factor, because often people in lower age brackets are taking their first steps in their career and as a result their personal income can be low, which may not support an affordability calculation.
One way to overcome this issue, is to invest in joint names with someone who is either a homeowner, or to strengthen your application further, has buy to let experience.
Do remember though that as a joint applicant, the other party will be liable for the mortgage too and will have ownership rights on the property, seek professional legal advice if you are unclear on your position.
Getting a great outcome for our client, to allow for further buy to let investment
With this case, we were particularly pleased to raise 80% of the property value in borrowing for the client, giving them a significant cash lump sum to re-invest in property.
Many landlords leverage equity in property to do exactly this, but it is pretty exceptional to be helping a client at a young age start prepare for their financial future.
We overcame a number of factors to secure these funds, but the client now has rate and mortgage payment certainty for the next five years.
If you would like help securing a buy to let mortgage, we'd be pleased to assist. You can call us, live chat with an advisor or send us your details for a call back.