This information should not be interpreted as financial, tax or legal advice. Mortgage and loan rates are subject to change.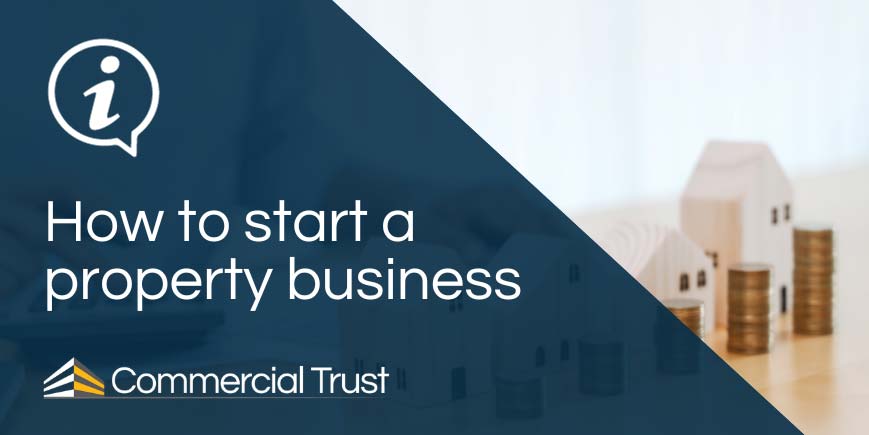 Categories: guides | property investment guides
A property business can be a rewarding business venture. "Bricks and mortar" investments are generally seen as fairly reliable, because you own something physical – where, for example, stocks and shares are intangible.
However, it is vital that you seek professional, financial advice before making any decisions on how to invest your money. Fundamentally, any investment comes with the risk of losing money, as well as making money, and you need to be sure any investment is the right choice for you.
This guide is for information only, it is not professional investment advice, but gives an overview on the subject that may help you in your planning.
To start a property business, you will need to plan, make informed purchasing decisions, and secure funding. A strong and well-informed plan will set your business on the path towards success.
In this comprehensive guide, we explain how to start a property business. We detail the types of property businesses you can start and the essential factors to consider to increase the likelihood of success.
Raising a deposit and covering other costs
When it comes to starting a property business, you are going to need money of your own to invest. This is called capital.
If you have enough of your own money to buy property outright, you may not need real estate financing, or, you may choose to make your funds go further, by intentionally using mortgages to spread your money across more than one property.
Mortgage lenders, who offer borrowing to applicants for property businesses, require the investor to put down a deposit – they will not lend 100 percent of the property value to you.
You can use savings to put towards a deposit, raise the money from selling another asset, invest with another person who can add to your capital, or if you already own a property (either outright, or with a mortgage) you could raise a deposit for your property business from it.
Where you borrow against a mortgaged property you own, you will only be able to raise as much capital as the loan to value on that property will allow.
The capital you raise can be used to cover the deposit a lender will require and other costs associated with investing in property such as stamp duty land tax and legal fees. For more details on this subject, read our guide "Costs involved with buying and remortgaging property".
Knowing how much capital you have to invest will be fundamental to starting your property business as it will dictate what you can pay for your first property.
What types of property businesses are there?
As well as understanding what available capital you have, you will need to decide the type of property business you want to start.
Here are four common types of property businesses:
Buy to let
In a buy to let business model, you buy properties to rent out as homes. You can invest in various types of properties with a buy to let property business. These include houses, flats, houses of multiple occupation (HMOs), multi-unit freehold blocks (MUFBs) and student lets.
Of the property business models described in this guide, this route is probably the most straightforward, as, with the exception of large HMO properties, a buy to let property is a regular residential home that – in the right circumstances – you could buy and rent out fairly simply. And, you can use a letting agent and buy to let mortgage advisor to help take some of the work off your hands.
A buy to let property business is a favoured route for many as it provides a stable income stream over time. If you plan to sell the properties at a later stage, you can generate gains from the potential increase in property value.
To navigate how to start a buy to let property business, you will need to secure funds. If you are not buying the property outright, you can get a buy to let mortgage. This type of mortgage is suitable for buying single-occupancy houses or flats.
Depending on the tax implications, you may choose to invest using a limited company buy to let mortgage, and getting professional tax advice is essential to deciding if this is the right choice for your property business.
You may choose to invest in houses of multiple occupancy (house share properties) using an HMO mortgage, to take advantage of the higher yields they can offer.
A mortgage broker can help you determine the best financing for your buy to let property business, but be aware they cannot advise you on the type of property you can invest in – their role is purely to find you the best possible mortgage based on a property you have already decided to invest in.
Good tenants are essential
An important factor in a successful buy to let property business is reliable tenants. You need to ensure that the tenants meet their payments and maintain the condition of your properties. This will prevent any costs that can impact your buy to let property business.
Student lets typically have a high turn-over, as students move to new accommodation or graduate. The chances of higher repair costs is greater, however, as student lets are usually through houses of multiple occupancy, yields can be higher than standard single home units.
If you are setting up a new property business and are new to vetting tenants, you may opt to pay for a letting agent to do this; and/or manage your tenancy and its day-to-day administration (including dealing with collection of rent, property maintenance, gas and electrical safety checks and more).
Make sure you include the cost of this in your profit and loss calculations.
Holiday lets
Setting up a holiday lettings company is a markedly different approach for a property business from a standard buy to let. You are not renting a property for six or twelve months or more at a time, just a few days, a week or fortnight.
The tenant type is completely different. Holidaymakers have different expectations and needs from a holiday let property than they might for a rental that will be their home.
You will need a holiday let mortgage to invest in a property for the tourist market.
There are different rules for holiday accommodation. You can self-occupy for part of the year, which is a benefit to owning a property in a holiday location, but there are rules around this and other aspects to understand relating to this style of property business.
Every time a tourist vacates your property, it needs to be inspected and made ready for the next booking, which means a lot more work than a regular buy to let. But, if you have a bad tenant, at least you know they shouldn't be around for long.
A key benefit to holiday lets is that they typically enjoy much higher yields, because the rent is generally higher overall compared to a standard buy to let property, albeit subject to seasonality.
Flipping
Flipping houses refers to a business model where you buy properties at a cheap price and renovate them to increase their value. If your renovations have increased the market value of the property enough, you will then sell them for a profit.
House flipping can offer large profits if executed properly and you don't go over your budget. The process can be relatively quick (e.g. within months) if you plan carefully. You could turn over several properties within a year.
Flipping property also provides an opportunity to be creative with your re-design and renovations.
Finding the right property is key to a successful house-flipping business. Focus on finding properties that are below market value, as these are the properties that usually need work. Potential sources could include estate sales, foreclosed homes, or auction properties.
Before you jump to buy a below-market-value property, you need to check the costs you will incur to renovate it – if your margins are not cost effective, you risk losing money.
Compare the estimated renovation costs against the estimated selling price to be confident you will achieve a profit and factor-in a contingency budget to further reduce the risk of making a loss or not breaking even.
You may need to secure financing for a house-flipping business.
A bridging loan is designed for this sort of investment strategy. They offer a quicker financial solution to purchasing a property than a mortgage and are appropriate for properties that are currently uninhabitable, where a mortgage is not.
Bridging loans can also be used to purchase properties at auction, this is called auction finance.
Bridging loans for property developersare suited to ground-up builds, as opposed to renovations.
A ground-up build is a project better suited to more experienced property business owners, but you can get straight into this type of project if you pay other professionals to do the specialist areas of the work (e.g. building, plumbing, electrical and gas contractors).
Commercial property
A commercial property business involves buying and renting properties used for business purposes. This can include retail buildings, office spaces, warehouses, and industrial buildings. Read our guide on the types of commercial property for more information on properties you could consider.
Commercial properties generally offer higher rental income, usually making them more profitable.
Commercial leases tend to be longer, offering a stable and predictable income.
Commercial tenants often take responsibility for property maintenance and repairs, reducing your costs. Yields differ within property types, read our guide on which commercial properties are most profitable.
A commercial mortgage is a designed for funding a purchase or remortgage of a commercial property. This type of mortgage allows you to buy the property and then rent it out to commercial tenants, or buy a property to operate your own business from.
Property sourcing
Property sourcing is the process of a third party finding and securing beneficial property deals on behalf of investors. In return, investors pay a finder's fee.
However, mortgage lenders are typically unwilling to lend where a property investor has not sourced a property for themselves.
This is because this dynamic has led to the situation being manipulated and buyers being left in poor financial situations, so it is unwise to go down this route if you need a mortgage to fund your purchase and requires great caution if you are considering it outside of this.
What skills do you need to start a property business?
Starting a property business involves more than purchasing a property and waiting for the profits to roll in. It requires a diverse skill set, a good understanding of the market and the ability to change direction to maintain profitability if necessary.
Here are some of the key skills that can contribute to success in the property business:
Research
Research is crucial to starting a property business. You will need to perform thorough research on market conditions and potential investments.
This guide is designed to inform your decisions, get you asking the right questions and help you identify profitable opportunities, but it should not be interpreted as financial or mortgage advice, always speak to professionals and, for a buy to let or commercial mortgage or bridging loan our team can help you.
Negotiation
Negotiation skills can give your property business a significant advantage. From negotiating property prices to rental contracts, effective negotiation can help maximise profits. It can also be beneficial in resolving disputes and maintaining positive tenant relationships.
Project management
Project management is an essential skill for flipping houses or developing properties. You will need to coordinate a variety of tasks and manage timelines and budgets. This ensures that you will complete any renovations or developments on time and helps towards making a profit.
Communication
From tenants to contractors to legal professionals, you will need to communicate with a variety of people. Strong communication skills will help you build effective relationships and handle any issues that arise.
Property management
Property management skills are essential if you choose to manage your properties yourself. This includes the ability to source and manage tenants and resolve property maintenance issues. Strong property management can ensure the smooth running of your property business.
Important requirements needed when starting a property business
Here are three important requirements for starting a property business:
Have a solid exit plan
If you have used a bridging loan to fund the purchasing of properties for your property business, you will need a strong exit strategy. An exit strategy outlines how you will repay the loan to the lender.
This strategy can entail selling the property once it has increased in value or transitioning to a mortgage once a refurbishment is complete.
Make sure you know where the money is
Good financial management is essential when dealing with properties. This means budgeting, managing property-related costs, and knowing where your money is. You should also be able to analyse potential investments to ensure they are viable and align with your business goals.
Understand your market
A deep understanding of the property market is crucial for success. You need to know market trends and identify profitable areas for investment. This includes everything from the amenities local to your target property, to broader property trends and property legislation.
How much money will you need to start a property business?
The amount of money you will need to start a property business varies. It will depend on the type of business, the properties you plan to buy, and your financing solution.
Usually, one of the largest initial costs will be the deposit required to secure a mortgage or loan. We provide examples of the deposits for the different loans below:
Buy to let mortgage: A buy to let mortgage typically requires minimum of 15 percent of the property value as the deposit. For example, if you are planning to buy a property worth £200,000, you will need £30,000.
Bridging loan: You will generally need 25 percent of the property value as the deposit for a bridging loan. If you are planning to buy a property for £200,000, you will need £50,000 as a deposit.
Commercial mortgage: You will typically need a minimum deposit of 25 percent of the property value for a commercial mortgage. That means if you are planning to buy a commercial property worth £200,000, you will most likely need around £50,000.
Besides the deposit, starting a property business will involve other expenses. These can include renovation costs, legal fees, valuation fees, sourcing fees, and property management costs. Make sure to factor these into your budgeting plans.
Commercial Trust can help guide you on your property journey, book a call today
Starting a property business can be challenging, but the rewards can be worth it. Commercial Trust is here to assist you every step of the way.
We specialise in buy to let mortgages, commercial mortgages, development finance and bridging loans. We will help you secure the funding you need to buy the properties for your property business. Our experienced team is ready to help you realise your property investment goals.
Chat with an expert mortgage advisor today to discuss how we can help your property business.
Related articles