This information should not be interpreted as financial, tax or legal advice. Mortgage and loan rates are subject to change.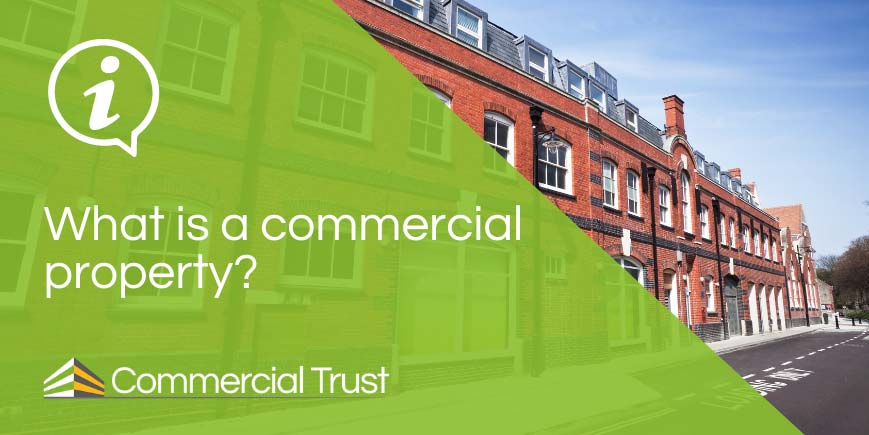 Categories: commercial mortgages | guides | commercial mortgage guides
Commercial property is a building or are buildings used for business activities like shops, factories, and offices.
Investing in commercial property can help diversify your investments and give you a steady income. You can get funding for your investment with a commercial mortgage.
In this guide, we explain what a commercial property is and how you can invest in it with a commercial mortgage.
What makes a property commercial?
These factors define what a commercial property is:
Purpose
Commercial properties are built for business use. In the UK, there are five main categories:
Offices: Places for administrative work and business operations.
Retail: Shops and shopping centres.
Industrial: Warehouses and factories.
Leisure: Hotels, restaurants, and sports.
Healthcare: Doctors, dentists and hospitals.
For more information, read our guide on the different types of commercial property.
Design
Commercial properties are made with the needs of businesses in mind. They might have special features for specific activities. For example, they may have specialised facilities for manufacturing, storage space for retail, open-plan or individual workspaces, temperature controls and meeting rooms for offices.
Commercial lease
Renting a commercial property is different from renting a home. Commercial leases are usually longer, and tenants have different responsibilities for costs.
Should you invest in commercial property?
Buying commercial property can be a good idea for these reasons:
Income potential
Commercial properties can make more money than residential properties because the rent tends to be higher.
If you have multiple businesses renting from you, within one building, you can have more than one source of income (a similar concept to a House of Multiple Occupation in the residential market).
For more information, read our guide on what types of commercial property are most profitable.
Value increase potential
Commercial properties may become more valuable over time. If you decide to sell, you may make more money from this increase in value, which is called "capital appreciation".
It is important to note that property values can go down, as well as going up. To stand the best chance of capital appreciation, you are likely to need to own the property for many years.
You would also need to avoid a decline in the property's value by keeping it well maintained and in good order.
Longer leases
When businesses rent a commercial property, they usually stay for a long time. Moving a business has a wider range of implications than a residential tenant does. This means you could have a stable income for many years as the landlord.
Spreads risk
If you already have a property portfolio with mainly residential properties, investing in commercial property may help you lower your risk in the long run, as your entire portfolio is not reliant on just one market.
If the commercial property you purchase is large enough (e.g. office space, warehouses), then you may have the ability to let units inside the property to multiple tenants.
As a result, you spread the rental income across multiple tenants. If one tenant leaves, causing a void period, the financial loss will be smaller than losing your entire income stream if your property was occupied by one tenant who moved out.
If you can get a new tenant to move in as the old tenant moves out, you may not encounter financial loss, but this may be difficult logistically.
Better tenant relationship
When businesses find a good location, they tend to want to stay there for a long time. This means you will have fewer tenants leaving, and you can build better relationships with them.
Tax breaks
The taxes associated with property ownership differ with commercial property when compared to residential. For example, Stamp Duty Land Tax on commercial property is charged differently.
Applicable taxes differ depending on whether you invest in a commercial property in personal name (personal income tax) or via a limited company (corporation tax).
Make sure you contact a qualified tax advisor to understand in detail the tax implications when buying commercial property, there may be tax breaks available to you, depending on how you approach your investment.
How to invest in commercial properties
If you want to invest in commercial property, follow these steps:
Know your goals
Decide why you want to invest. Is it so you can run your own business from the property, or is it for investment only? Do you want to earn rental income, or do you plan to sell the property later for more money? Or both? This will help you choose the right property.
Find the right property
Look for a property that matches what you want. Think about where it is, what condition it's in, and how much it will cost you to buy it and maintain it over time.
A good location is important, because it will attract more 'footfall' – relevant customers finding your company by virtue of where it is.
You may also want to make sure the property is in good shape and doesn't need a lot of repairs. This will make it more appealing to tenants or buyers.
Alternatively, you might want to take on a project property, so you can buy it for a cheaper price where you have budgeted for repairs to get it lettable/fit for your use.
Compare the price of the property to other similar properties. You want to make sure it's a good investment for the price.
Get funding
To buy a commercial property, you may need to get a commercial mortgage if you don't have the cash to buy outright.
There are different lenders like banks, building societies and specialist lenders who can offer you this loan. You can find the best lender for your needs with our guide to commercial mortgage lenders.
You can also approach a commercial mortgage broker. A broker will help you find a suitable lender and navigate the application process for you.
Wondering what is the interest rate on a commercial property loan? You can use a commercial mortgage calculator to determine estimated monthly payments. It is best to speak to a lender or broker for exact interest rates.
Make an offer
Once you find a property you like, make an offer to the seller. Write down the price you are willing to pay and any conditions you have. It's a good idea to get help from professionals to make sure everything goes smoothly.
Commercial Trust can help you with a commercial mortgage
Commercial Trust specialises in commercial mortgages. We work with many lenders in the UK to help you find the best deal for buying a commercial property.
Getting a commercial mortgage can be complicated, but our advisors can make it easier for you. We will help you understand what you need and find a lender who will can offer you a loan that best fits your needs.
If you want to know more about commercial mortgages, contact a mortgage advisor at Commercial Trust.
Related articles