This information should not be interpreted as financial, tax or legal advice. Mortgage and loan rates are subject to change.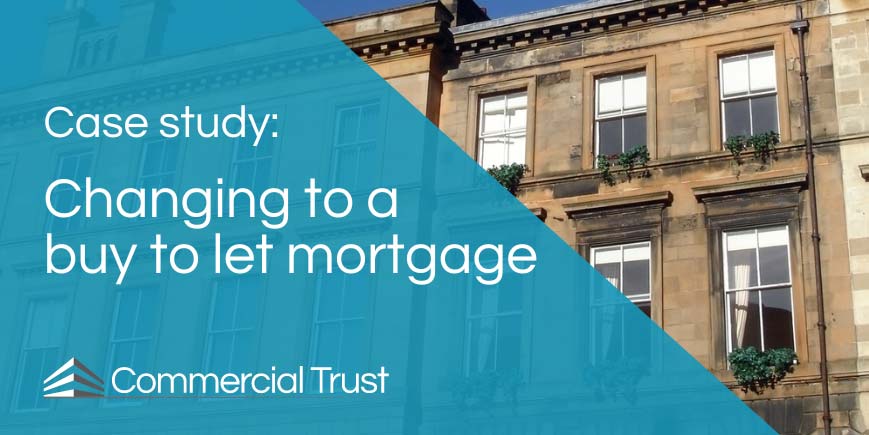 Categories: Case study | buy to let mortgages
Summary of the case
Client was moving overseas and wanted to rent out former home in UK
Modest capital raising was required to renovate property
Property was also listed with estate agents as a back-up option
Client was in their 60's
What we achieved for the client
Spoke to the client on a Monday, submitted case the following Monday, offer issued the Monday after
Rate of 3.28% per annum
Raised funds to make the property ready to let
The challenges of the case
A client approached us with the objective of changing to a buy to let mortgage, from a residential one, as they were moving overseas. There was no onward purchase, because the client intended to rent property abroad, rather than buy.
Minor works were required to make the property, a maisonette flat, ready for letting, so a modest sum was to be raised from the capital.
The client was in their mid-60's, an experienced landlord, and had income from a pension and from buy to let property.
At the time of our discussion with the client, the property was also listed with estate agents, as selling was an alternative option being considered. The client was also living in the property, whilst working with us to secure the buy to let remortgage.
Does it matter if a property you want to let is also up for sale?
If you are in a position where you might either sell a property or rent it out, you might consider pursuing both options at the same time.
It is worth being aware though, that as a general rule, lenders will not be happy to accept a buy to let mortgage application for a property that is up for sale.
This is nothing more than a matter of practicalities and best use of time. If work is put into processing a mortgage application, only for the property to be sold, this would be a waste of the company's time.
So, if this is your situation, expect to be asked to take your property off the market at the point an application is submitted with the lender – and make sure you make your advisor aware, if your property is on the market, so they can see what the lender's position is on the matter.
If a valuer goes out to the property and there is a 'for sale' sign outside, that the lender is not expecting them to report, this may cause an interruption in your application.
Can I get a buy to let mortgage if I'm over 60?
Yes! You can get a buy to let mortgage if you are over 60. It doesn't even stop there, some lenders are very happy to welcome applications from those well above that age.
Many clients ask whether their age will stand in their way, when applying for a buy to let mortgage.
Whilst applicant age limit is amongst lender criteria, some lenders place a number on it that effectively means there is no limit. For example, they may set a maximum age at the end of the mortgage term of 135 years, when realistically the human race has not yet broken that record.
There may be other criteria factors that in combination mean you cannot secure a buy to let mortgage, but your age in isolation is not one of them.
What did we achieve for the client?
We were easily able to secure the client the funds they needed, and had plenty of lenders to look at when it came to the client's age.
In this specific instance, the lender was even accepting of the fact that the property was listed for sale and did proceed with processing the mortgage application.
What's more, we got the deal to offer in one calendar week.
The client is set to move out of the property at completion, and will then be able to take their life on its new path overseas, knowing they have an income from renting out their former home.
Related articles